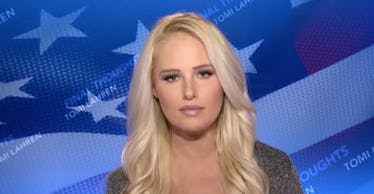 Tomi Lahren's Memorial Day Video Will Have You Rolling Your Eyes For This One Reason
Tomi Lahren doesn't mince words when talking about anything. Her latest message surprisingly started out free of controversy as she used Memorial Day as a chance to remember and honor fallen soldiers. The video is a well-deserved tribute to men and women who have died in service to the United States, but Tomi Lahren's Memorial Day video will still have you rolling your eyes thanks to one dig she couldn't help but add at the end.
Lahren's Monday, May 28 edition of her Fox News web series, Final Thoughts, encouraged viewers to, as the title says, "Take a Moment to Remember What Memorial Day Is Really All About." Sounds like a fitting topic for the solemn holiday that, as Lahren points out, can be misconstrued as a "day for grilling, beach parties, backyards and mattress sales." Even President Trump missed the mark in his Memorial Day message.
While watching the video, I thought Lahren might finally leave out divisive politics with her honorable tribute to service-people who died in active military service. Most of the video is free of political pretense, and she honored the 13 men and women who lost their lives in military action this year. The tribute took a turn at the end of her message when Lahren called out "those who are too troubled to stand for the flag and anthem."
Why, Tomi, why???
With just a couple sentences, Lahren managed to turn a well-done tribute to fallen U.S. soldiers into a discussion about standing for the flag and the anthem and how that relates to one's degree of patriotism. Once again, why?
Her full mention about "standing for the flag" reads,
You fought bravely to protect and defend all of us, even those who are too troubled to stand for the flag and anthem. Rest in peace knowing millions of patriotic and grateful Americans will always stand for you, in your memory, and with the utmost respect for what you've done for us and the rest of the free world.
Lahren is likely referring to the instances of NFL players taking a knee during the national anthem in an effort to boycott police brutality against people of color.
When former San Francisco 49ers quarterback Colin Kaepernick first took a knee in 2016, he told NFL.com's Steve Wyche why he did it. Kaepernick explained,
I am not going to stand up to show pride in a flag for a country that oppresses black people and people of color. To me, this is bigger than football and it would be selfish on my part to look the other way. There are bodies in the street and people getting paid leave and getting away with murder.
Lahren didn't focus much on Kaepernick's reason for protest when she "shredded" him in an August 2016 episode of Final Thoughts on The Blaze,
I support your right to freedom of speech and expression. Go for it, bud. It's this country, the country you have so much disdain for that allows you to speak your mind. It protects your right to be a whiny adult, indulgent, attention-seeking, crybaby. It also protects my right to shred you for it ... There are patriots of every race who have fought and died for this country. And we honor the flag and sing the anthem as a reminder.
She didn't hold back when she closed her show's introduction with, "And if this country disgusts you so much, leave."
Since Lahren seems to have a stand-up-or-get-out view of how to act during the national anthem, she was thrilled by the recent news from NFL commissioner Roger Goodell. On May 23, he discussed the league's new rule requiring "all personnel" to stand for the national anthem.
The problem with failing to listen to and understand the reason behind the kneeling protests is that the real issue of police brutality against and the oppression of people of color continues to go undiscussed in the midst of a debate about whether or not only "patriotic and grateful Americans will always stand..." as Lahren claims in her message. There is also a well-documented contingent of soldiers who have said they fought so people like NFL players could use their right to peaceful protest.
Unfair treatment of people of color by police was on display in the NBA the same day as the NFL laid out their national anthem rule. Footage from the Jan. 26 arrest of Milwaukee Bucks' rookie Sterling Brown was released on May 23. The NBA player was confronted by police for a parking violation, and it turned into Brown being tackled to the ground, handcuffed, and Tased. According to the Journal-Sentinel, Milwaukee police chief Alfonso Morales said officers acted inappropriately. He also shared, "I am sorry this incident escalated to this level."
An excerpt from the Bucks' statement on the matter read, "We are grateful for the service of many good police officers that courageously protect us, our fans and our city, but racial biases and abuses of power must not be ignored. There needs to be more accountability."
The NBA appears to have an in-tune view of the issue of police brutality, and Golden State Warriors head coach Steve Kerr even blasted the news of the NFL's new rule (The NBA also has an "anthem policy requiring standing," but commissioner Adam Silver works with the players union to ensure they "stand up for what they believe in" and speak out on political and social issues). In his video critique, Kerr clearly lays out how the reason behind kneeling protests has been conflated with "disrespecting the flag or the military," per Golden State of Mind.
Kerr's full statement on the matter read,
They're just playing to their fanbase, and they're just basically trying to use the anthem as fake patriotism. Nationalism, scaring people, it's idiotic, but that's how the NFL has handled their business. I'm proud to be in a league that understands patriotism in America is about free speech, about peacefully protesting, and our leadership in the NBA understands that the NFL players who were kneeling, were kneeling to protest police brutality, protest racial inequality. They weren't disrespecting the flag or the military, but our President decided to make it about that.
It seems as though dragging a debate about assigning patriotism based on how and when you stand for the flag and national anthem into a tribute to fallen soldiers can make things a little more complicated. Yes, it was only a couple sentences at the end of Lahren's post, but she knows it's a hot-button topic that is continually divisive.
The quip about "those who are too troubled to stand for the flag and anthem" is a loaded phrase, and it drew attention away from what was mostly an honorable tribute to the well-deserving men and women who have given their lives in service to the United States.