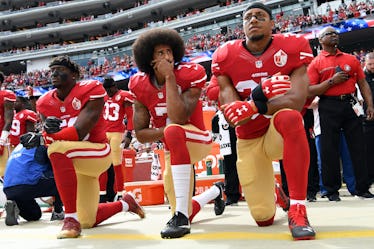 The NFL Has A New Policy On National Anthem Protests & People Are Not Impressed
Thearon W. Henderson/Getty Images Sport/Getty Images
When former San Francisco 49ers quarterback Colin Kaepernick began kneeling to protest police brutality in 2016, the National Football League (NFL) had no rule against it; the policy encouraged players to stand, but did not include language to punish those who did not. In the next season, starting in 2017, dozens of other players followed Kaepernick's lead. In the wake of controversy lobbed at the NFL for what has been labeled by President Donald Trump, among others, as "disrespect for the American flag," the league updated its policy on Wednesday, May 23. The NFL announced the update at a press conference that requires players to stand for the national anthem — a controversial move that is viewed by some as suppressing free speech. The NFL's new policy on kneeling during the national anthem raises a few big questions.
NFL Commissioner Roger Goodell said, at the press conference,
Clearly our objective is the league and to all 32 clubs ... We want people to be respectful to the national anthem, we want people to stand — that's all personnel — and make sure that they treat this moment in a respectful fashion. That's something that we think we owe. We've been very sensitive in making sure that we give players choices, but we do believe that that moment is an important moment and one that we are going to focus on.
The discussions by stakeholders in the league took place on May 22 and 23, and reportedly took about three hours total, per Jimmy Haslam, owner of the Cleveland Browns. It wasn't clear the degree to which teams would be fined or the dollar amount of the penalties.
"I think throughout this process all of us as owners in the league ... have grown much closer to our players as we work through this process," Haslam said at the press conference. "I think the solution we have come up with is a good one, and as Roger and as Michael said I think it will now allow us to focus back on football, which is what we want to do."
"Focus on football" was a popular refrain on Wednesday, as well as in the midst of an increasing number of players deciding to kneel during the anthem. But Kaepernick, who went unsigned for the 2017 season, couldn't focus on football, as he said, because unfettered police brutality distracted him.
"I am not going to stand up to show pride in a flag for a country that oppresses black people and people of color," Kaepernick told NFL Media after the first game he knelt for in August 2016. "To me, this is bigger than football and it would be selfish on my part to look the other way. There are bodies in the street and people getting paid leave and getting away with murder."
Interestingly, the NFL's response to Kaepernick at the time was soft, saying that "players are encouraged but not required to stand during the playing of the national anthem." Kaepernick's team backed him more strongly, saying in a statement, "In respecting such American principles as freedom of religion and freedom of expression, we recognize the right of an individual to choose and participate, or not, in our celebration of the national anthem."
The controversy really kicked off after President Trump criticized Kaepernick's protest last fall, which prompted many players to pick up where Kaep left off, whether in light of police brutality or simply in protest of the president's harsh criticism. There seems to be several different kinds of ideological divides between the kneel/don't kneel camps, the most glaring of which is the Democratic/Republican divide. But there is also an apparent split between what is commonly understood as authentic patriotism and "paid patriotism."
Prior to 2009, players did not leave the locker room until after the national anthem, according to published reports. The NFL reportedly received millions of taxpayer dollars from the Department of Defense (DOD) and the National Guard to move the patriotic displays out in front of the cameras, because it looked more patriotic. The patriotism ploy didn't sit well with people at the time.
"Fans should have confidence that their hometown heroes are being honored because of their honorable military service, not as a marketing ploy," Sen. John McCain, a Vietnam War veteran and prisoner of war (POW), said in a statement last year. McCain and fellow Republican Sen. John Flake published a joint oversight report on the issue in 2015 called "Tackling Paid Patriotism."
The new NFL rules also struck some as a blatant suppression of free speech, while others were already calling for widespread boycotts. The NFL has yet to publicly respond to that criticism.
"Maybe this new rule proposal that is being voted on is a 'compromise' between the NFL office and club CEOs on various sides of the issue, but certainly not with player leadership," tweeted George Atallah, assistant executive director of external affairs of the NFLPA. "We weren't there or part of the discussions."
The new rules also raise other important questions about the kind of player behavior that isn't explicitly banned — namely, assault, rape, and other forms of violence against women, as Charlotte Clymer, an army veteran and former campaigner for Hillary Clinton, pointed out on Twitter (in 2014, the NFL updated their rules to reflect that players found to have committed assault, battery, domestic violence, or sexual assault that involved physical force will be punished, but the NFL has been criticized for its handling of allegations of domestic violence and sexual assault). It's also not clear whether team's ownership will have the power to transfer those league fines to the players themselves who may decide to demonstrate.
Kaepernick, who retweeted news articles announcing the NFL policy on Wednesday but did not offer comment, was named by Amnesty International as a 2018 Ambassador of Conscience. In his acceptance speech, Kaepernick tried to shed some light on why it was so important to him to kneel, saying,
It was James Baldwin who said, to be Black in America, 'and to be relatively conscious is to be in a rage almost all the time.' My question is, why aren't all people? How can you stand for the national anthem of a nation that preaches and propagates, 'freedom and justice for all,' that is so unjust to so many of the people living there? How can you not be in rage when you know that you are always at risk of death in the streets or enslavement in the prison system? How can you willingly be blind to the truth of systemic racialized injustice?
The new NFL rules have the potential to send these kneeling demonstrations to a boiling point. It will be interesting to see the reaction of players, team owners, and managers — all of whom have a ripe opportunity to continue to drag this conversation out into the light. This latest push to "focus on football" could very well yank the "focus" from where it really should be.