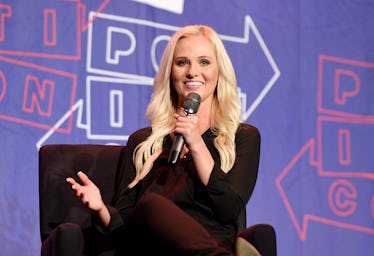 Tomi Lahren Called Out The Eagles For Skipping The White House & It's So Ironic
Joshua Blanchard/Getty Images Entertainment/Getty Images
Tomi Lahren is back at it again. Remember her? The conservative darling that we just can't seem to shake? Well in the latest trail of classic Lahren antics, on Monday, Feb. 5 she once again took to Twitter to air some grievances after Sunday's Super Bowl, and naturally Tomi Lahren's comments about the Eagles' White House visit are just so ironic. I, for one, am shocked. Simply shocked.
After their win at the Super Bowl LII on Feb. 4, CNN reported that some of the Eagles players will not be participating in the customary victor's visit to the White House. The decision not to attend the White House was sparked by Eagles safety Malcolm Jenkins in protest of an administration he does not agree with. Jenkins told CNN,
My message has been clear all year ... I want to see changes in our criminal justice system. I want to see us push for economical and educational advancement in communities of color and low-income communities. And I want to see our relationship between our communities and our law enforcement be advanced.
The news sparked Lahren to tweet that the Eagles were just being petty. On Monday afternoon, she wrote, "Declining an invite to the White House is so petty. Come on, guys. He's our president."
Petty is an odd choice of language for Lahren who is not exactly known for, well, being "not petty."
The conservative pundit has become rather infamous for making comments that can be perceived as "low-blows" and putting her foot in her mouth, repeatedly.
Most recently, Lahren decided to go after Rep. Joe Kennedy III (D-MA) who was appointed to give the Democratic response to President Donald Trump's State of the Union on Jan. 30. The Fox News contributor posted a video to her Instagram taking a shot at Kennedy. She said,
If you haven't yet had the displeasure of watching that little limp d*ck's response to President Trump's State of the Union, I suggest you take some Pepto-Bismol or some Midol or whatever you need to do to get through it, because it was pathetic and it was embarrassing. Oh my god.
Not petty at all right? Didn't think so.
At least she eventually realized, probably because everyone on the Internet went off on her, that she took it too far and tweeted an apology the next day taking full responsibility and acknowledging that they were totally over the line, "I got too upset. I sincerely apologize."
As I mentioned earlier, however, this is not the first time that Lahren said something that probably (definitely) took it too far and warranted an apology.
On Jan. 12, during a meeting on Deferred Action for Childhood Arrivals (DACA), an Obama-era program which protects undocumented immigrants who arrived in the United States as children from deportation, Trump reportedly referred to Haiti and African countries as "sh*thole countries," which obviously sparked a lot of controversy. (Trump later denied using any such language.) For her part, Lahren decided to leave her mark on the conversation, saying that the word was "call[ing] it like it is." She tweeted,
Is there a bell for pettiness? Anyone have one I can borrow?
The idea that Lahren would call out the Eagles players as being petty for calmly stating that they do not anticipate attending the White House is a bit ironic considering all she has said over the years.
Due to the trend that Lahren has decided to make her "aesthetic," Twitter was quick to call her out.
Regardless of where you might fall politically, there is a difference between peaceful protest and pettiness. If Lahren is going to be a "public figure" she should find a way to better convey her opinions without using terms like "limp d*ck." Because that's just... petty.