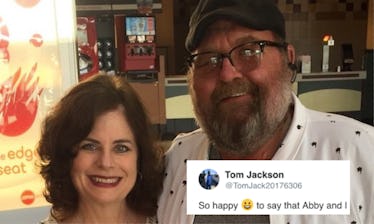 Tom & Abby From 'Queer Eye' Got Back Together Again & His Tweet Will Make You Cry
Twitter/Tom Jackson
On Feb. 7, Netflix gifted us all with a reboot of Bravo's early 2000's Queer Eye for the Straight Guy by bringing makeover show Queer Eye to everyone's streaming devices. On the first episode, the "Fab Five" teams together to makeover Tom, who's trying to 'woo' his ex-wife Abby through his new look and renovated apartment. Abby goes to Tom's car show, sees his updated place, and accepts Tom's dinner invitation. Fans were devastated to learn after the episode that Tom and Abby were no longer dating, but Tom and Abby from Queer Eye got back together as of a tweet from Tom on March 5.
The couple was married for 12 years, then divorced, and has since maintained a friendship. On Queer Eye, Tom admitted he didn't know why the two weren't together. "You'll have to ask her why she's not with me," he said on the show.
"So happy to say that Abby and I are reunited," Tom said on his Twitter. "We've loved each other for many years and want to spend the rest of our lives together!"
This comes as a big surprise to fans, as Tom had tweeted on Feb. 27 that he and Abby weren't dating anymore. "Just to let the world know, Abby and I are no longer together," Tom tweeted. "She will always be the love of my life. I will always love her more than anything!"
But fans have been rooting for the couple since the first episode was released – Tom professed his love for Abby on Queer Eye, saying he loves "Abby more than anything" and he wants "to spend the rest of my life with her." What could be more romantic than that?
The adorable couple shared a photo on Twitter of their reunion:
This is what we've all been waiting for. Also, bonus points to Tom for the cute emojis.
While we only know of what we saw of the couple from Queer Eye in just the one episode, what we saw certainly proves how much they love one another. They listen to each other, show affection, share interests, and they're perfectly content to sit outside on his new patio together. They dress up for each other, too: Abby comes to Tom's antique car show in her fabulous yellow dress and pearl necklace, while Tom uses Tan's fashion inspiration for a fun, daytime look.
Tom talked about his feelings for Abby with Antoni, who took pleasure in being part of Tom and Abby's love story. If your eyes were dry during this episode, how dare you.
Fans responded to this love announcement with a (confused) outpouring of love.
Same, Ira, same.
They also commented on how his skin looks (shout out to Jonathan).
He must be keeping up with his SPF and green stick routine!
And his outfit (hey, Tan).
Tom also appears to be wearing the hat he bought with Tan in the episode. My. Heart.
Someone help. This is too cute.
I personally saw the news while watching The Bachelor: After the Final Rose and it renewed my outlook on love again.
This is a "love journey" I'm actually invested in.
Prior to this reunion, Tom posted throwback photos of him and Abby before announcing they weren't together.
A beautiful couple enjoying the sun.
He shared a photo from the day they got married.
And just after filming Queer Eye during summer 2017.
Shipping it hard. (Look at Tom's shirt layering!)
Thank you Queer Eye for bringing this destined couple back together and into our lives and hearts (reunion episode, anyone?). We're rooting for this Georgia couple for the long run. Tom and Abby forever.
Check out the entire Gen Why series and other videos on Facebook and the Bustle app across Apple TV, Roku, and Amazon Fire TV.
Check out the "Best of Elite Daily" stream in the Bustle App for more stories just like this!