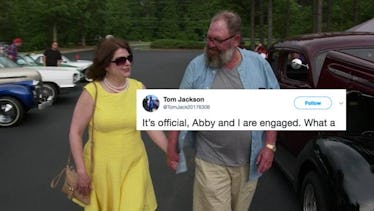 Tom & Abby From 'Queer Eye' Are Getting Remarried & His Tweet Will Melt Your Heart
Netflix
If you haven't seen Netflix's reboot of Queer Eye for the Straight Guy, do yourself a favor and watch it. It's more than a show about making over swag-less straight dudes. The current Fab Five inspire these guys to become the best versions of themselves, from the inside out! It's beautiful, it's hilarious and, it's heartwarming. The most heartwarming episode of all? Tom, the self-proclaimed "dumb, old country boy" who was still in love with his ex, Abby. Now, Tom and Abby from Queer Eye are getting remarried, and Queer Eye fans from all over the country (myself included) cannot contain their excitement.
For those of you who haven't seen Tom's iconic pilot episode yet, let me give you a little refresher on Tom and Abby's story. The two may be back at it again now, but it took them a while to get here. Basically, Tom has been married three times in his life. He tells the Fab Five during his episode, "I think I'm unlucky in love because I'm butt ugly." WHICH IS SO NOT TRUE. By the end of the episode, the Fab Five give him the confidence to realize he's not, in fact, "butt ugly," and to go back out there and let his most recent ex Abby know he still has feelings for her.
You see, throughout the episode, Tom made his feelings for Abby very clear. At one point, he even said, "Well, I love Abby more than anything, I want to spend the rest of my life with her." Swoon. And she apparently had feelings for him, too! "She says she loves me, I know I love her," Tom continued on the episode. "You'll have to ask her why she's not with me."
By the end of the episode, the newly made-over Tom invited Abby to attend a car show with him. She said yes! After enjoying a lovely meal on his newly redecorated back patio (where the old Tom liked to enjoy "redneck margaritas" while he watched TV with the door open), she agreed to see him again. The whole thing had all Queer Eye fans feeling hopeful of a reignited flame between the two... that is, until Tom dropped a bomb on us back at the end of February 2018:
On February 28, 2018, he tweeted,
I just watched my episode for about the 20th time. I cry like a baby ever time I watch it. Just to let the world know, Abby and I are no longer together. She will always be the love of my life. I will always love her more than anything!!!!!!!
In another tweet, Tom revealed that he and Abby had actually broken up back in September 2017. The news was devastating. I considered taking the day off to mourn the wretched news. And to be honest, I never quite bounced back from it, until Tom tweeted again, on March 8, 2018, that he and Abby were back together once more.
And now, Tom has tweeted today that wedding bells are ringin', because the two are engaged once again! Along with an adorable picture of the two of them posing, with her left hand proudly resting on his chest, Tom wrote on Twitter:
It's official, Abby and I are engaged. What a Netflix special the would be. If the Fab 5 planned and attended our wedding!!!!!!!!!
You freaking know that's a Netflix special I am absolutely tuning into. And apparently, I'm not the only one.
People are willing to fund the episode out of their own pockets.
And I mean, who better to plan a wedding than the Fab Five? Their specialties are perfect for wedding planning.
This girl wants to remind Tom to take off his hat, but I'd like to remind her that he needs to keep his face shielded from the sun because of his lupus! Safety first!
Mostly, people are just so happy for the two lovebirds.
It's restoring our faith in love!
Obviously, there are some natural concerns here, though...
If you're wondering whether or not the Fab Five will make an appearance at Tom and Abby's wedding, well, that's still TBD. However, Tom provided the crew with a pretty tempting proposition on Tuesday, March, tweeting that he'd love for them to serve as his groomsmen.
If your heart hasn't already exploded into a billion tiny little pieces, here's another update that will take you there: Tom also shared a photo of the engagement ring he gave Abby, and it is GORGEOUS:
Here's to Tom and Abby! Thank you for restoring my faith in love!
Check out the entire Gen Why series and other videos on Facebook and the Bustle app across Apple TV, Roku, and Amazon Fire TV.
Check out the "Best of Elite Daily" stream in the Bustle App for more stories just like this!