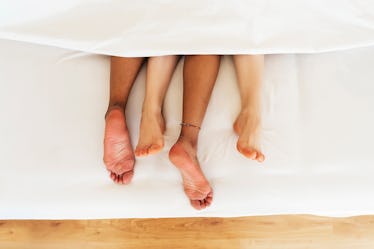 10 Texts To Send To Get That Dick Appointment, Because You Deserve It
I'm more of an opener than a closer — I'm pretty good at making initial contact with someone I'm into, but it can be hard for me to seal the deal. If you're anything like me, you're wondering how to turn a flirtation into a sexual experience during these hot, hot (weather-wise) months. You might not be looking for someone to just hang out with — you might be looking to get that dick appointment (an appointment to have sex with someone, not, as I originally thought, a rude doctor). If so, I have exactly the texts you need to make sure that you can schedule some time for a little lovin' this summer.
If you want someone to come over and give you sexual satisfaction, your texts should make that clear. As I've learned many times, being on the same page is crucial to even enjoying intimacy, so I found you some texts that are both clear and irresistible. Of course, you're allowed to turn a dick appointment into a relationship or a friendship later on (or it might already be a friendship) if that's what you want, but for the purposes of Initial Pubic Offering (like an IPO, but sexy), keeping it casual can help. Despite the name "dick appointment," many of these texts don't reference specific genitalia or can be easily updated for whoever you'd like to schedule sex with.
Read on to find 10 texts to schedule a little more dick in your life.