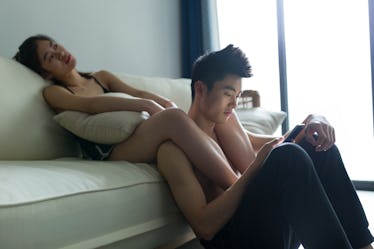 Ask These 5 Questions To Figure Out If You're In A One-Sided Relationship
There's that specific feeling of "wanting to crawl inside a manhole" that comes from waving back at someone that you thought was waving at you, only to realize they were actually waving at the person behind you. Putting yourself out there can be hard enough. Putting yourself out there and realizing that the other person isn't equally putting themselves out there? Now that just feels terrible. No matter how long you've been seeing someone, it can feel natural to want to make sure you're the same page, especially if you're trying to figure out if you're in a one-sided relationship.
"Relationships are about compromise," Dr. Joshua Klapow, Ph.D. Clinical Psychologist and Host of 'The Kurre and Klapow Show,' tells Elite Daily. "Typically one-sided relationships come when there is not mutual agreement on compromise. When we feel our partner is being one-sided we need to be able to describe, how, when, and how frequently they are being one-sided, and how broadly they are being one-sided."
Although openly talking about your needs can feel totally intimidating, being as transparent as possible can help you and your partner better understand where you each are coming from.
Dr. Klapow breaks down five questions to ask yourself if you believe your relationship may be one-sided.