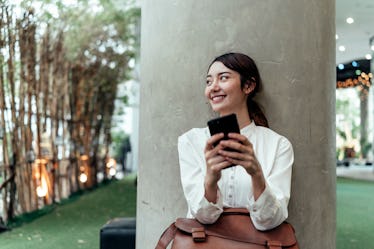 9 Smooth Messages To Ask Your Dating App Match For Their Number
Shutterstock
It's safe to say that things are going splendidly with your match. You've exchanged some flirty banter, you established that you can both recite endless quotes from Parks and Rec like true fanatics, and maybe you've even talked about the possibility of meeting up IRL down the line. Now, you're eager to take your convo off the app to see where it leads. If you want to ask a dating app match for their number, you'll obvi want to be smooth about it. After all, you've already made a killer impression, and getting their digits is just one more opportunity to keep that up.
Sure, you could simply fire off a message that reads, "What's your phone number?" but where's the creativity — or excitement — in that? You've got way more game than that. Asking in a more unique way will not only make you stand out among other matches, but spiking their interest will also increase the likelihood that you actually get their digits... and then a text back.
So, ready to take things to a new level with your latest crush? Go ahead and fire off one of these foolproof messages, kick back, pour yourself a bev, and just wait for those digits to roll in.