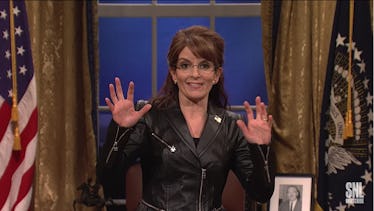 Tina Fey Sang A Full Song As Sarah Palin On 'SNL' & It Will Leave You In Tears
For Saturday Night Live's season finale on Saturday, May 19, the show brought back one of their former all-star's to host. Tina Fey returned to Studio 8H on May 19 and brought back one of her most-beloved political characters for a hilarious sketch. Tina Fey's Sarah Palin song on SNL was definitely a highlight from the night's episode, and if you haven't already yet, I suggest go watch it now.
There's a ton of star power in the current SNL cast — from Kate McKinnon, to Keenan Thompson, to Aidy Bryant. But there's some past members from past seasons that have left serious voids on the show that are nearly impossible to fill, and one of those members is Tina Fey. Whenever Fey returns to the SNL stage, I immediately get excited. What other celebrities might make a cameo appearance? What characters of hers will she bring back to life? These are questions that immediately come to mind when I know Fey is coming back to grace the SNL stage.
So when I was matching last night and Fey's Sarah Palin character appeared on my TV screen, I immediately got excited. She and several other cast members (along with some special celebrity guests) came together to pay tribute to the sacrifices that they've made in their political careers due to President Donald Trump.
"Hey, it's me!" Fey said in her Palin accent to roaring applause. The former Republican vice presidential nominee offered some advice to the current members of Trump's cabinet, because "politics is a wild ride — one minute you're on top, and then you're gone in the blink of a Scaramucci." Fey then broke into a rendition of "What I Did For Love" from the musical A Chorus Line before she was joined by other political heavyweights.
And it was absolutely hilarious.
Another famous "Sarah" from the political world joined in on the song — Sarah Huckabee Sanders, played by Aidy Bryant. "Isn't it funny that our names are both Sarah when we're both classic Beckys" is seriously the joke I never knew I needed. She sang that she might regret the lies that she's told on behalf of the president, crooning, "I did what he said to do." Perfect.
Then Kate McKinnon as Kellyanne Conway arrived in the only way that she should — floating down from the ceiling while strapped in a harness.
Joining the group was Fred Armisen as Michael Wolff, author of his Trump White House tell-all book, Fire and Fury: Inside The Trump White House. He was criticized for stretching the truth in that book after it was published, and then everyone pretty much forgot that this book exists. And in the sketch he defended his actions when he sang, "I did what I had to do — won't regret, you'll forget what I did for Trump." Which is exactly what happened.
Cecily Strong arrived as Stormy Daniels, followed by John Goodman as the former Secretary of State, Rex Tillerson. "Trump was the biggest mess I ever dealt with, and I worked for Exxon Mobil!" Tillerson exclaimed, clearly happy that he's out of the mess that is the Trump White House. And finally, Leslie Jones as Omarosa rounded off the cast of disgraced characters who all sang in the end, "Won't forget, can't regret, what I did for Trump."
Of course, this is just a loose interpretation of what these former and current Trump staffers might be thinking. But my guess is that when all is said and done and Trump leaves the White House, more of his former employees will likely reflect on their time working for the president and (maybe) not look upon — or even remember — their experience too fondly.
It might not have been the best sketch of the night, but anytime Fey can bring back her Palin impression, it's a win for me.