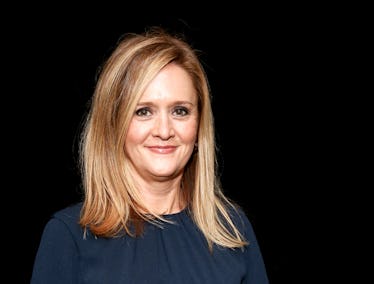 Samantha Bee Had The Best Response To The White House Correspondents' Dinner Backlash
Paul Zimmerman/Getty Images Entertainment/Getty Images
It's truly a crime that Samantha Bee's show only airs once a week. On Wednesday, May 2, Bee finally got the chance to weigh in on the drama from the weekend surrounding jokes made about White House Press Secretary Sarah Huckabee Sanders at the White House Correspondents' Dinner (WHCD). Samantha Bee's response to the White House Correspondents' Dinner backlash was hilarious and smart as ever.
Comedian Michelle Wolf's monologue at the WHCD on April 28 pulled no punches, which crossed a line for some. Specifically, a joke about Sanders' eyeshadow drew criticism. A tide of backlash came on Twitter the next day, culminating in a rare and surprising expression of regret from the WHCA president.
Bee opened her segment with New York Times reporter Maggie Haberman's tweet about the WHCD, which Bee — in her signature incredulous tone — said implied "that it's un-feminist to reference that Sarah Sanders has eyes."
"Maybe we need to remind people what feminism is about, because I'm pretty sure it's not about this," Bee joked.
Bee then took the opportunity to launch into one of her out-of-breath rants about Sanders' track record at the White House Press Room lectern, calling Sanders a "f*cking liar" and insisting that it's not offensive to call out falsehoods coming from the White House.
"Feminism doesn't mean that you can never make jokes about another woman ever," Bee said.
For some context here, at the WHCD, Wolf said of Sanders, "I actually really like Sarah. I think she's very resourceful," which she jokingly followed up with, "She burns facts and then she uses that ash to create a perfect smoky eye. Maybe she's born with it, maybe it's lies. It's probably lies." This joke prompted a lot of backlash.
Despite the tide of criticism Wolf received — many of which was from journalists — Bee said in her monologue that Wolf's joke was fundamentally about speaking truth to power, not making fun of Sanders' appearance.
"All press secretaries lie, but Sarah Huckabee Sanders' lies are more like a Jedi-mind-trick," Bee joked, adding "She is smart. She's savvy. And she has an eerie ability to make towering falsehoods unwatchably dull."
Bee has a point. In a New York Times video super-cut, Sanders' tactics are on full display — she cuts journalists off, shrugs at their questions, and even rolls her eyes occasionally. Often when reporters ask questions about President Donald Trump's tweets, Sanders is keen on capitalizing on the ridiculousness of the moment. It kind of works? She often talks over reporters and tells them that they're overreacting or trying to "create something out of nothing."
At one point, about halfway through the video, a reporter catches Trump in an apparent lie (about the nature of a phone call with the president of Mexico) and asks Sanders, "So he lied?" Sanders manages to flip the script: "Well, I wouldn't say it a lie. That's a pretty bold accusation."
Bee points out that this type of seemingly banal mastery of either lying to reporters or completely deflecting from their questions can carry huge consequences. For this reason, Bee suggests, Wolf wasn't so off-the-mark.
"Sanders is dangerous because she's such a good soldier in the Trump army," Bee said.
But Sanders got a whole lot of support after Wolf's monologue from both sides of the political divide. In an appearance on Fox & Friends May 3, host Ainsley Earhardt apologized to Sanders and said that she handled the WHCD with grace and class. "There's no excuse for that, I mean women should support other women," Earhardt said.
Bee closed out the segment with her typical sarcastic praise, noting that Sanders had "outlasted every man who's had your job and almost any other job in the Trump White House to become one of the most powerful women in the nation." She then added, "You are a hell of a role model for little girls everywhere who are smart, and hardworking, and completely evil."