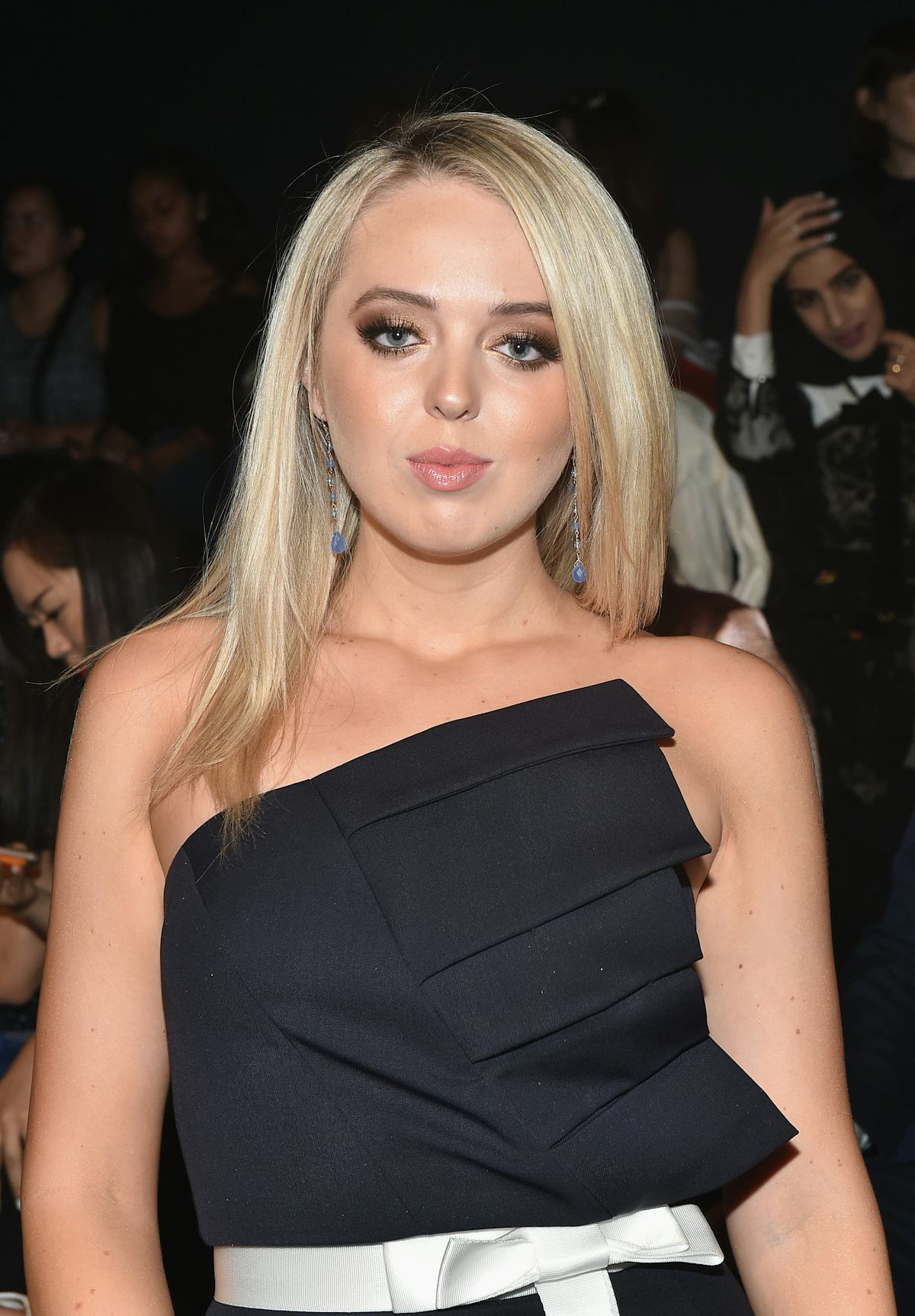 Tiffany Trump's Photo With A Greek Mayor Is The Weirdest Political Photo Op
Mike Coppola/Getty Images Entertainment/Getty Images
While other law students are spending their summers working at firms and taking part in externships, the youngest Trump daughter is clearly living her time off to the fullest. After all, nothing says summer break like jetting overseas, but Tiffany Trump's photo with a Greek mayor begs the question whether this was for business or pleasure. I can't lie, I still have a slight case of FOMO.
On Aug. 1, Tiffany Trump's close friend Andrew Warren took to Instagram to share a photo of him, Trump, and Mayor of Mykonos, Greece Konstantinos Koukas. Initially, one might assume that meeting with any mayor would call for some formal attire and take place in a political setting, but that's clearly not the case for these three. Instead, the trio apparently met for a casual dinner at Interni Restaurant in Mykonos, Greece and from what they're wearing, it wasn't a suit and tie situation. According to Warren's post, it was his last night in Mykonos before heading back to New York City, but he definitely didn't forget to let Mayor Koukas know that the dreamy city was his "favorite vacation spot."
He wrote,
So fun having dinner on my last night in Mykonos with the Mayor @konstantinos_koukas, your island is my favorite vacation spot always. Now back to NYC
Is this a political photo-op? Is it a vacation photo? The president's daughter hanging out with the mayor of a Greek vacation town is certainly noteworthy, and I really don't know what to think of this.
This photo is definitely slightly bizarre, but believe it or not it's one of the calmer events that's happened since Tiffany Trump landed in Greece. According to The Daily Mail, Tiffany Trump reportedly joined actress Lindsay Lohan for a fundraiser in Mykonos on July 27 to help raise money for the victims of the Greek wildfires on the Grecian island of Mykonos. Elite Daily reached out to the White House and Lohan's representation for comment on the report at the time, but did not hear back.
Following the fundraiser, Lohan posted a now-deleted Instagram story that showed her with Trump and close friend Andrew Warren out on the town. Warren also took to Instagram to share a hilarious photo of Trump and Lohan apparently creating some unconventional hairstyles for the evening. I don't know about y'all, but this is giving me serious undergraduate college nostalgia.
Hanging out with international politicians and Lindsay Lohan? I have to admit, Tiffany Trump definitely knows how to plan a summer. The dinner with Mayor Koukas might have been a little out of the blue, but Trump partying it up with Lohan is a little less surprising, especially since the two have been rumored to be pals for a while. If I were Tiffany, I'd be joining in the fun too, especially since Lohan officially opened her Lohan Beach House on the dreamy Mykonos island earlier this year. Sounds like a blast, to be real.
For those who are dying to catch a glimpse of Lohan's new home, you won't have to wait long. Lohan's new MTV show Lohan Beach Club is set to premiere in 2019, but unfortunately we won't be seeing Tiffany Trump partying it up on the big screen anytime soon. After all, she's got a second year at Georgetown Law to focus on at the moment, Mai Tais and beach bums can wait.
Her father's administration may be tumultuous, but it's nice to see that Tiffany Trump is still enjoying her early 20s to the fullest. Keep doing you, girl.