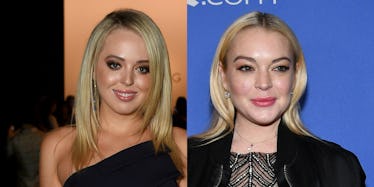 Tiffany Trump Reportedly Partied With Lindsay Lohan In Greece & I Have So Many Questions
Nicholas Hunt/Getty Images Entertainment/Getty Images/Slaven Vlasic/Getty Images Entertainment/Getty Images
Something strange just happened: Tiffany Trump reportedly partied with Lindsay Lohan. And yes, I mean Tiffany Trump as in the youngest daughter of the 45th president of the United States. Even though the two have been rumored to be old pals for a while now, this update is seriously proving just how real their friendship is, and I don't really know how to feel about it, TBH.
According to The Daily Mail, Trump and Lohan were reportedly spotted hanging out together at a fundraising event to help victims of the Greek wildfires on the Grecian island of Mykonos on Friday, July 27. Elite Daily reached out to the White House and Lohan's representation for comment on the report but did not hear back at the time of publication.
Lohan, who opened her new Lohan Beach House on the island earlier this year, posted a now-deleted photo of herself on Instagram with Trump and their mutual friend, Andrew Warren, which shows the three of them enjoying a night on the town. Warren also shared videos of the three friends on his Instagram Story on Friday, July 27. It apparently showed Lohan and Trump having fun with what he called "hairstyles by Lindsay." Lohan and Trump appeared to be goofing around and having a blast.
During this reported gathering of unexpected friends, the Georgetown Law student opted for a black button down dress while Lohan sported a red dress with a plunging neckline. Warren, on the other hand, rocked a Louis Vuitton bandana and a multicolored jersey. According to E! News, The Freaky Friday actress reportedly captioned her now-deleted post with a string of pink sparkly heart emojis, along with the hashtags #mykonos and #america — and even tagged President Donald Trump in the caption, because they're apparently that cool and comfortable with each other.
If this all seems like way too much for you to comprehend, here's the apparent proof from a Lohan fan account on Instagram:
Shocking, I know.
Although they seem like an unlikely pair (Tiffany usually stays behind the scenes while Lohan is a notorious socialite), the duo apparently goes way back. In a June profile piece with The New York Times, Lohan told the outlet that the first daughter had been planning a trip to Greece to hang out with her for a while.
"[She's] a really sweet girl," Lohan said of Tiffany. "Nice person."
Oh, and get this: they're apparently so tight that they even FaceTime, according to a screenshot Lohan shared of herself talking with Trump to plan the Greece trip, per The Cut. New bestie alert?
It's unclear when the two actually started their friendship, but you might assume that Lohan's supportive feelings of Donald could have had something to do with it.
"Here's the thing: very simple with politics," Lohan explained to the Times in the aforementioned interview. "He's the president. No matter what anyone says, he's still the president. I have no feeling. I have no emotion."
She also defended POTUS in a now-deleted tweet in July 2017, writing:
THIS IS our president. Stop #bullying him & start trusting him. Thank you personally for supporting #THEUSA.
Even so, you'd think things would get weird between Lohan and Trump, considering some of the sketchy things Donald has said about the actress. For example, in a 2004 interview with Howard Stern, he told the radio host that Lohan, who was just 18 years old at the time, was "probably deeply troubled and therefore great in bed." Um... gross.
But then again, if Lohan really has "no feeling" and "no emotion" toward the president, then she's probably all like:
Anyway, Lohan and Trump seem to have quite the friendship, and if it works for them, it works for me.