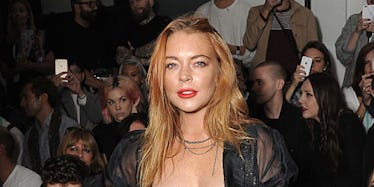 Lindsay Lohan Defends Trump On Twitter After CNN Tweets: "Stop #Bullying Him
Stuart C. Wilson/Getty Images
We need to talk, everyone.
Lindsay Lohan thinks people are being too mean to President Donald Trump.
On Tuesday, July 4, Lohan tweeted, "THIS IS our president. Stop #bullying him & start trusting him. Thank you personally for supporting #THEUSA."
The actress was responding to a tweet with a screenshot of an article regarding Charlie Gard, a British baby with a terminal disease who's gained international attention. The European Court of Human Rights recently ruled Gard could be taken off life support, which goes against the wishes of his parents, who want to pursue experimental treatment.
Both Trump and Pope Francis have offered their support to Gard and his parents.
Lohan, who tagged CNN, is apparently not at all concerned about Trump's recent tweet with a GIF that depicted him punching the CNN logo.
Many interpreted Trump's tweet as an incitement to violence against members of the media.
As POTUS, Trump is the most powerful person in the world, protected by the U.S. Secret Service, and literally has the ability to blow up the planet many times over, but according to people like Lohan he's still capable of being bullied.
This is actually a narrative that's been pushed by the Trump administration as well, which has painted the president as a victim.
It's fascinating Lohan (or anyone for that matter) thinks Trump, who recently attacked MSNBC's Mika Brzezinski on Twitter and has a long history of being verbally abusive toward others (especially on the internet), is being treated unfairly.
Lohan was actually once a target of Trump in a 2004 interview with Howard Stern. At the time, Trump referred to the actress as "deeply troubled" and suggested she would therefore be "great in bed."
It seems Lohan is content to further the Trump propaganda machine.
Many people weren't too fond of Lohan coming to Trump's defense.
But a lot of people also just seemed to be amused.
Interestingly, Lohan seemed to have endorsed former Secretary of State Hillary Clinton during the U.S. presidential campaign.
During an interview with The Sun in March 2016, the actress both came to Trump's defense and offered what could've been interpreted as an endorsement of Clinton.
Lohan said people were "too mean" to Trump, adding, "I like Donald as a person, but I'm a Hillary Clinton fan."
After it was declared Trump won the presidential election, Lohan reportedly tweeted, "Retweet if you want a recount."
That tweet seems to have been deleted.
So, while Lohan might've been a Clinton supporter in the past, it appears she's now on the Trump train.