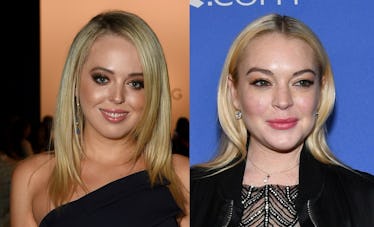 There Are Signs That Tiffany Trump Could Appear On Lindsay Lohan's New Show
NICHOLAS HUNT/GETTY IMAGES ENTERTAINMENT/GETTY IMAGES/SLAVEN VLASIC/GETTY IMAGES ENTERTAINMENT/GETTY IMAGES
Great news: Lindsay Lohan is coming back to the big screen, and MTV just released a trailer for the exciting series. Judging from the clip, there's gonna be food, the beach, Lindsay (!!!), but I think everyone (self-included) really wants to know if Tiffany Trump will be in Lindsay Lohan's new show. Although the answer is uncertain, there are definitely signs out there that the first daughter could, indeed, make a cameo or two, so get excited.
UPDATE: According to a spokesperson for the Trump Organization, Tiff won't be appearing on Lohan's show. "There are no plans for Tiffany to appear on the show," the spokesperson says in an emailed statement to Elite Daily. Oh well, maybe next time.
EARLIER: According to CNN, Lohan's new show, tentatively titled Lohan Beach Club, will document her experience with opening her third business venture "Lohan Beach Club" in Mykonos, Greece. The docuseries will reportedly follow the former child star herself and her team as they work to bring her vision to life, and follow Lohan as she establishes new friendships and alliances while navigating through Grecian life.
It sounds like there's a pretty good chance Trump could make an appearance if you ask me, because she and Lohan are apparently really good friends. I'm talking so close that they FaceTime together, do each other's hair, and have even become travel buddies. Just days ago, Trump traveled to Mykonos, Greece — the same location as the Mean Girls actress' resort — where she and Lohan partied it up and shared all the pics to social media.
In a now-deleted photo that Lohan shared to Instagram on Friday, July 27, the two were shown having a blast at a fundraising event to help victims of the Greek wildfires on the Grecian island — and they were definitely dressed to impress if cameras were around (*wink wink*). Trump sported a black button down dress with mesh cutouts while Lohan sported a red dress with a plunging neckline and sparkly silver earrings.
Though the outing was surprising to many onlookers, Lohan told The New York Times in June that she and Trump are long-time friends and had been planning the trip for a while.
"[She's] a really sweet girl," Lohan said of Trump. "Nice person."
Elite Daily reached out to representatives for Trump and Lohan to find out if the first daughter might make an appearance on the upcoming show, but didn't immediately hear back. Still, I'm convinced it's happening.
Either way, the show is surely one to look forward to, especially because we've already seen some of the drama related to the resort play out on social media — y'know, like when Lohan threatened to fire two servers because they weren't wearing matching shoes. Remember? If not, I got you covered. Here's the photo that started it:
While some people were seriously fascinated by the tunic wrap dresses the women were wearing, Lohan vented her frustrations at their mismatch heels in the comments, writing, "Wear the same shoes please, or you're fired." And in case you thought she was kidding, the Freaky Friday actress doubled down on her threat in another message after a follower asked if she was joking.
"Pls tell me you're not joking need this to be real," the fan wrote, to which Lohan responded, "Totally serious!"
So yeah, very watchable fodder.
According to CNN, the show is set to air some time in 2019 so brace yourself, folks, and start counting down the days until we're blessed with Lohan Beach Club.