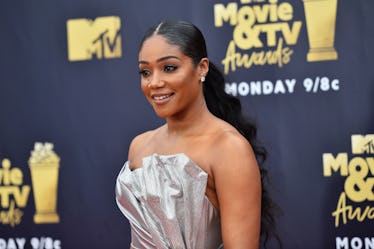 Tiffany Haddish's MTV Movie & TV Awards Look Comes From One Of Beyoncé's Favorite Designers
Alberto E. Rodriguez/Getty Images Entertainment/Getty Images
The MTV Movie & TV Awards are one of the most low-key entertaining awards ceremonies. Comedian Tiffany Haddish hosts this year's event and while her opening monologue is guaranteed to be amazing (and obviously hysterical), her outfit from the night was even more amazing. Basically, Tiffany Haddish's MTV Movie & TV Awards red carpet look was a metallic dream come true.
Haddish rose to fame in part due to her hilarious role in Girls Trip, and is now riding her wave of success with her book, The Last Black Unicorn. The actor-comedian is undeniably entertaining, but she's also stylish AF. I'll never forget Haddish's Saturday Night Live monologue, where she talked about her Alexander McQueen dress that she planned to wear to any and every event. SNL was her second time wearing it (she first rocked the white gown at the Girls Trip premiere), and Haddish was good on her word and wore it a third time to the 2018 Oscars. Never did outfit repeating look so good.
The dress was fierce and all, but it's also fun to see Haddish stun in different styles. As if she could read my thoughts, Haddish wore a jaw-dropping silver and white gown to MTV Movie & TV Awards, and it was so pretty, I almost cried. Even better, though, it was designed by the same woman who made Beyonce's stunning vow renewal gown! And if Bey did it, you know it's good.
Just like Bey's gown, Haddish's dress is from designer Galia Lahav. While Lahav makes both bridal gowns and regular evening wear, Haddish actually chose a bridal look. The silver and tulle beauty is called the Arden and is from Lahav's Queen of Hearts collection. Haddish's choice is one of the bolder looks from the designer, and she did it justice.
Haddish really drove the metallic theme home by pairing the gown with metallic silver pumps and silver diamond jewelry. She kept things relatively toned down — but still incredibly trendy — when it came to her beauty look, though. In fact, Haddish's hairstyle, a middle-part, slicked-down, low ponytail, was also seen on many other celebs during the night, including Mandy Moore, Katherine Langford, Amandla Stenberg, Kristen Bell, and Halsey.
A close-up reveals a smooth, silver bodice with a textured, sculptural bow detail.
That dramatic train, though. I die.
For the actual ceremony, Haddish wowed even more. Haddish first appeared in the hilarious opening Black Panther skit, in which she was transported to Wakanda.
She then took to the ceremony stage for, well, a quick performance of everyone's favorite Cardi B song "Bodak Yellow." Actually... Haddish seemed to look a lot like pregnant Cardi up on that stage. The comedian even wore the same dress Cardi B wore, a long, form-fitting white Christian Siriano dress with long sheer sleeves, during her performance on SNL when she confirmed her pregnancy. Yes, Haddish even styled her hair the same way Cardi B did. Tiffany, are you trying to tell us something??
The MTV Movie & TV Awards ceremony was filmed on Jun. 16 but the winners have been shrouded in secrecy because it airs tonight, June, 18, at 9 p.m. ET. You can stream it via MTV.com or watch it on an actual TV if you're old-fashioned like me and still have one to watch the action unfold, and see Haddish's dress again. We'll certainly see even more stunning looks from Haddish throughout the night as she slays the entire ceremony.
Now, there's just one question left unanswered: Was Haddish able to score a Groupon for any of these dresses? Probably not, but a girl can dream, right?