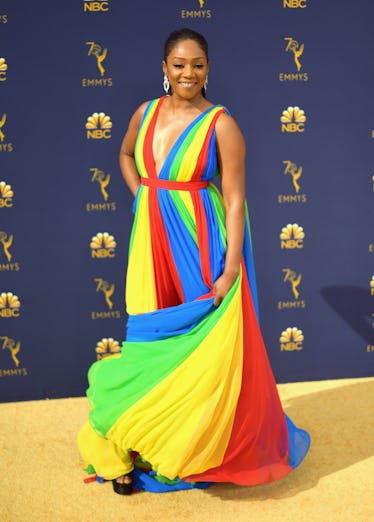 Tiffany Haddish's Look At The Emmy Awards Is The Definition Of Tasting The Rainbow
Matt Winkelmeyer/Getty Images Entertainment/Getty Images
Tiffany Haddish is on a roll, and it's obvious she's not stopping any time soon. The obsession with the newcomer started last year when she starred alongside Queen Latifah and Jada Pinkett Smith in Girls Trip. Then, last November, Haddish made Saturday Night Live history when she became the first black female stand-up comic host in over 40 seasons. Finally, ahead of the Emmy Awards on Monday, Sep. 17, 2018, she's already won the award for Outstanding Guest Actress in a Comedy Series for hosting SNL. And now, Tiffany Haddish's 2018 Emmy Awards Look is yet another cause for celebration.
This is the first time Haddish has attended an Emmy Awards ceremony, but judging from her past red carpet looks, I knew we were in for a surprise. From the Girls Trip red carpet premiers to her dress at the MTV Movie & TV Awards, Tiffany Haddish is a style wildcard — you literally never know what she will show up wearing.
Earlier this year, she walked the 2018 Oscars red carpet in a traditional African gown with gorgeous embroidery and a golden headpiece as a nod to her Eritrean heritage and as a way to pay homage to her late father who passed away months before.
Fast forward to a few months later, when Haddish showed up on the MTV Move & TV Awards red carpet in a beautiful, modern. silver dress and metallic silver pumps. The dress has a sculptural element on the bodice, cinches at the waist, and boasts a long, white, sheer train for an added feminine touch.
Needless to say, I couldn't even make an educated prediction on what Tiffany Haddish would wear at the 2018 Emmy Awards. And neither could anybody else. But of course, Haddish stunned this year yet again and truly shined brighter than the rainbow — literally.
Haddish graced this year's ~gold~ carpet wearing the actual rainbow, and by rainbow, I mean a red-, blue-, green-, and yellow-striped Prabal Gurung dress. With a deep, deep v-neck, an empire waist, and a bottom as big and flowy as the parachutes you played with in elementary school, Haddish made the biggest statement on the carpet.
Naturally, Twitter absolutely could not get over this choice. Some think she looks like "fruit stripes gum in THE BEST way," while some think Haddish is taking The Babadook's place as the latest gay icon. But virtually everyone on social media agrees that Tiffany! Haddish! And! Her! Look! Are! The! Best! Gifts!
Even bigger of a statement than Haddish's dress was the meaning behind it. Haddish told E! on the red carpet that her dress was actually another tribute to her father's home country, as it references the Eritrean flag.
Haddish let the dress shine the brightest, with a toned down beauty and accessory game. While she wore statement silver earrings and black heels, she didn't include many other accessories. Her beauty look was simple, yet stunning, with an overall nude makeup look and a slicked back, long ponytail.
Overall, Haddish made a huge splash on the carpet, just like she always does.