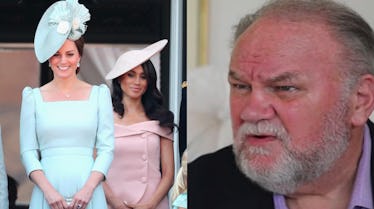 Thomas Markle Spoke Out On The Meghan & Kate Feud Rumors In A Surprisingly Supportive Way
Chris Jackson/Getty Images News/Getty Images;Youtube/TheSun
It's been a minute since we've heard anything from Meghan Markle's estranged father and TBH, I haven't really missed him. He caused way too much drama in the months leading up to his daughter's wedding to Prince Harry, so his silence has been a blessing. But now, Meghan's dad seems to be up to his old tricks again, speaking out to the press about his relationship with the Duchess of Sussex. And — plot twist! — Thomas Markle's comments on Meghan and Kate Middleton feud rumors are actually kind of supportive.
In an attempt to prove how close they once were, Thomas apparently shared private letters written to him by Meghan over the years in a Dec. 9 interview with The Daily Mail, during which he also complained about all the attempts he's made to reach out to his daughter to try to heal their rift, only to be frozen out by a "wall of silence." As for all the bad press Meghan has been receiving lately re: the recently debunked rumored feud with Kate Middleton and reported diva-like behavior that included allegedly reducing a staff member to tears, Thomas claimed to be totally perplexed.
"I don't recognize this person," he told The Daily Mail. "The Meghan I know was always sweet, kind, generous. She was always demanding but never rude."
So there you have it. Elite Daily reached out to the palace for confirmation of his remarks but did not hear back in time for publication.
During the same interview, Thomas also lashed out at the press for painting him as a father who had never shared a close relationship with his daughter. "People are trying to rewrite history," he said. "Meghan and I were as close as a father and daughter could be right up until her wedding to Harry. Then it all fell apart."
Thomas then offered up the hundreds of sweet notes and cards Meghan had sent him through the years. "Sometimes they were for special occasions, other times just little notes she would leave around the house," he explained. "I've still got a Post-It Note on my fridge which says, 'I love you Daddy.' I see it every day."
Look, I think it's really sweet that Thomas saved all these mementos of his relationship with his daughter, and I'm glad, at least, that he sort of came to her defense about all the negative press. But at the end of the day, I think the biggest gift he could give Meghan right now would be to heed the advice of her former TV dad from Suits, Wendell Pierce.
Pierce revealed in an interview with The Telegraph back in August that he thinks it would be wise for Thomas to just maintain his silence and stay out of the media.
"If you care about Meghan, the Duchess of Sussex, then that should be first and foremost in your mind before you say anything," he said. "If you love your daughter, just love your daughter. It's not for public consumption."
Wise words.