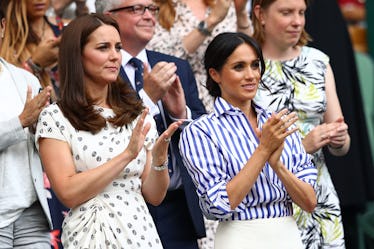 Kensington Palace Just Shut Down Those Rumors That Meghan & Kate Are Feuding For Good
Michael Steele/Getty Images Entertainment/Getty Images
Looks like all the rumors of a Duchess v. Duchess battle royale out are apparently just that — rumors. For a few weeks now, multiple sources have been reporting that things are pretty intense between the new Duchess of Sussex and the Duchess of Cambridge. But Buckingham Palace's statement about the Meghan Markle and Kate Middleton feud rumors shuts them down, so it looks like we can all relax now. I mean, I don't think we'll be seeing a royal catfight anytime soon (read: ever). Although, TBH, how major would that be?
The rare response from the Palace was apparently prompted by a Dec. 1 article in The Sun, which reported that the duchesses had an "explosive fight" prior to Meghan and Harry's wedding over Princess Charlotte's bridesmaid dress, and that Kate reportedly schooled Meghan for berating members of her team. The former Suits actress seems so sweet and chill that I can't actually imagine her berating anyone, let alone Kate's staff members. But who knows what goes on behind closed doors, right?
According to a Nov. 27 report from The Daily Telegraph, the duchesses allegedly don't always see eye to eye because "they are very different women, despite their similar circumstances. Meghan is extrovert, whereas Kate is quite shy."
There's also the fact that the Duke and Duchess of Sussex will be packing up and moving out of their current residence on the grounds of the Kensington Palace and into Frogmore Cottage in Windsor instead of into an apartment next door to Middleton and Prince William — surprising news which only added fuel to the claims of a major duchess feud.
Meanwhile, according to Vanity Fair, the intense situation between the two couples is reportedly actually due to disharmony between Prince Harry and Prince William and it all stems from a blow out last Christmas, when the former felt the latter wasn't doing enough to welcome Meghan into the fam.
"Kate and Meghan are very different people and they don't have a lot in common but they have made an effort to get along," a source told the publication. "Any issues are between the brothers. Harry felt William wasn't rolling out the red carpet for Meghan and told him so. They had a bit of a fall out which was only resolved when Charles stepped in and asked William to make an effort."
Way to go, Chuck!
But it looks like all of these claims are all just wild speculation, because according to The Mirror, Buckingham Palace is now straight up denying that Meghan Markle and Kate Middleton are at odds, stating: "This never happened."
Are we buying this denial? The "we good here" stance does seem to be in line with Middleton's response in Leicester University on Wednesday, Nov. 28, when she was asked if she was excited for Meghan Markle and Prince Harry's forthcoming baby.
"Absolutely!" she responded. "It's such a special time to have little kiddies. And a cousin for George and Charlotte, as well, and Louis. It'll be really special."