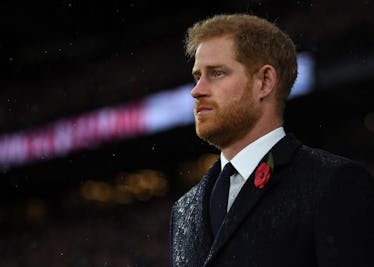 The Reported Reason Why Prince Harry Wants To Get Out Of The Palace ASAP Is So Sad
WPA Pool/Getty Images Entertainment/Getty Images
I don't know about you guys, but it's pretty much my dream to live in a palace. Butlers, footmen, ladies-in-waiting... it's the stuff fairy tales are made of! I mean, the whole thing just sounds so, well... majestic. But not everyone shares my royal aspirations, apparently. Because on Nov. 24, an official statement confirmed that the Duke and Duchess of Sussex will be packing up and moving out of their current residence on the grounds of the Kensington Palace and into a new home. And the reported reason Prince Harry wants to escape Kensington Palace ASAP is actually so, so sad.
Are you ready? Because it's pretty major. Apparently, living at KP has reportedly made the Duke of Sussex feel like he's in jail.
"Harry feels very imprisoned at Kensington Palace," royal biographer Ingrid Seward told People. "He can't wait to get out." Elite Daily reached out to the Palace for comment on the report, but did not hear back by the time of publication.
So mind-blowing, right? And get this: the Duke's feelings reportedly stem from the way his relationship with his family has changed now that he's married to Meghan Markle and the couple expecting their first baby in the spring. According to royal correspondent Rebecca English, Prince Harry now wants to hightail it out of the pair's current two-bedroom digs on the grounds of the Palace, and into the 10-bedroom Frogmore Cottage on the Windsor Estate in order to "escape the goldfish bowl of royal life for the sake of his marriage and his unborn child." Elite Daily reached out to the Palace previously for comment but did not hear back.
I hear that. Prince William and Kate Middleton currently reside at Kensington Palace with their three children, and the older two — Charlotte and George — are photographed by paparazzi on their way to school on the regular. Who wants to expose young kids to all that nonsense? At the end of the day, the Palace really doesn't sound like an ideal place to raise kids, so why not trade it all in for a more private life in Windsor?
And let's not forget that the property has a special connection to the couple's wedding day, since Frogmore Cottage was the location of Prince Harry and Meghan Markle's private wedding reception, and also where they took their gorgeous engagement photos.
Of course, major renovation work needs to be done in order to transform the two-story, stucco-faced building — which once housed junior palace chefs — into a luxe home.
"I'm sure it'll be put back together and brought back to its glory for Harry and Meghan," the Queen's former chef Darren McGrady, told Hello. "They could easily do 10, 12 bedrooms there and then add in all the extras – the drawing rooms, the sitting rooms, the gym."
Plus, the Cottage is located in the private Home Park on the Queen's private grounds, which means Meghan and Harry will have more freedom to roam around. "The Home Park is sort of the back entrance into Windsor Castle and that's where you have Frogmore Cottage, Frogmore House and Frogmore Stables," McGrady explained. "It's much more private than Kensington Palace. Harry and Meghan can walk their dogs, go anywhere in the park freely."
It may not be a palace, but it still sounds amazing. Congrats, guys!