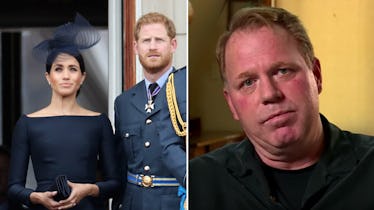 Meghan Markle's Brother Is Blaming Prince Harry For The Family's Drama With Meghan Now
Chris Jackson/Getty Images Entertainment/Getty Images/YouTube
Sigh. Will we ever stop hearing unsolicited commentary about the Duchess of Sussex from her family? Ever since the world learned of Prince Harry's engagement to former Suits actress Meghan Markle, a handful of her family members have been quick to dish out dirt to the media about the newest Duchess. Is it because they're resentful? Is it because they're jealous? Is it because they just want their 15 minutes of fame? It's hard to tell, but they simply won't give our girl a break. And now, one family member branched out into not only talking about Meghan, but calling out her royal husband as well. That's right, Thomas Markle Jr.'s comments blaming Prince Harry for "changing" his half-sister have just come to light, and honestly guys, can you feel just how hard my eyes are rolling right now? Elite Daily reached out to Kensington Palace for comment on Markle's claims, but has not heard back by the time of publication.
In an interview with The Daily Mail, Thomas Markle Jr. expresses his resentment towards his half-sister Meghan for reportedly forgetting her roots with her own family to go live a life of royalty — and Prince Harry is also to blame, apparently.
"It's not the Meghan I remember. The Meg I remember was very caring and she cared about everybody—that was important to her," Markle said. "Since Hollywood and being on that show—being a celebrity has changed her. Maybe she feels she is above everybody, maybe even more now."
FYI: This is your heads-up that Meghan GIFs will be peppered throughout this entire post.
But, I digress.
Markle continued, pinning his anger on Prince Harry, stating that if Meghan wasn't married to him, she wouldn't have such a strained relationship with her father, Thomas Markle Sr.
"If she wasn't with Prince Harry right now — even if she was still on Suits right now — she would have stopped what she was doing to go and visit [our father Thomas Markle Sr.] and make sure he's ok," Markle said.
But good old Thomas Jr. didn't stop there. He told the publication that his family deserved to be treated like Kate Middleton's family, who received invitations to the royal wedding — including Middleton's Uncle Gary, who, according to The Daily Mail, has "a domestic assault conviction."
"They have [brought outsiders in] before in the past like with the Middletons. I don't see why our family is any different," Markle said. "I think Uncle Gary and I would get along just fine. It would have been nice to at least get an invite to the wedding like he was."
Is this guy for real? Just a friendly reminder that Kate Middleton's family members have not made media appearances bashing the Duchess of Cambridge, so *perhaps* that's where these two families differ.
Now, if you're thinking that this guy can't get any worse, guess what? You're wrong!
He told The Daily Mail that, family feuding aside, he'd still like to meet the Middletons, stating, that it "would be kind of interesting," adding, "But for now, I think just to be recognized as her family would be nice."
Yeah, we're going to go with a HARD PASS on that one, Thomas.
I try not to meddle in family affairs, but let me give the Markle family a word of advice: Instead of spreading negativity about the Duke and Duchess of Sussex, wish them well and try your best to make amends privately. Maybe then (and probably only then) will your relationship with Meghan progress in a positive and healthy way.
Always on your side, girl.