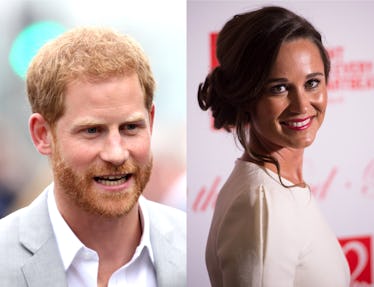 Prince Harry's Cousin Is Marrying Pippa Middleton's Ex, So Family Dinners Will Be Fun
Getty Images
I'm not personally a member of British elite society but, as an avid watcher of British reality show Made In Chelsea, I know that it's a pretty small world. So small that it's very possible to wind up engaged to someone related to your ex... which is pretty much what happened when Thomas Kingston proposed to Lady Gabriella Windsor.
I know what you're thinking: who are Thomas Kingston and Lady Gabriella Windsor?! Don't worry. I've got some backstory for you that's guaranteed to prove just how intertwined their lives were even before they got engaged. Here we go.
As Cosmopolitan UK notes, royal expert Rebecca English pointed out in a now-deleted tweet that Thomas Kingston is Pippa Middleton's ex. In other words, he's definitely spent some time with Will and Kate. Meanwhile, Lady Gabriella Windsor is the daughter of Queen Elizabeth's cousin, Prince Michael of Kent. This basically makes her a distant cousin of Prince Harry and Prince William. So, yeah, she's also spent some time with Will and Kate because, well, duh they're family.
Basically, Kingston just proposed to his ex's brother-in-law's distant cousin. Now, usually proposing to your ex's brother-in-law's distant cousin wouldn't be a huge deal. Why not? Because, well, let's face it. Most of us don't spend a ton of time with our brother-in-law's distant cousins. But most of us also aren't members of the royal family.
As a bonafide member of the royal family, Windsor is a regular at a lot events as Prince William, Prince Harry and — you guessed it — Pippa Middleton.
There Lady Gabriella is on the far left with her whole fam:
Now, of course, this connection is a tad bit awkward but, now that both Middleton and Thompson have so clearly moved on (Middleton married James Matthews last year), it really shouldn't be that big of a deal.
English, a Daily Mail reporter, was the first to confirm news of the engagement this morning by tweeting, "Prince and Princess Michael of Kent are delighted to announce the engagement of their daughter Lady Gabriella Windsor to Mr Thomas Kingston. The engagement took place in August; Mr Kingston proposed on the Isle of Sark. The wedding will take place in spring of 2019."
Next, English broke down the scandalous connection for us in a since-deleted tweet. "Tom is an ex of Pippa Middleton, the Duchess of Cambridge's sister," she wrote. "She dated the Bristol graduate in 2011. Tom used to procure the release of hostages in Iraq before moving into the world of finance. He and Ella attended Pippa's wedding to James Matthews last year. Small world!"
According to another one of English's tweets, Kingston works in frontier market investment as a Director of Devonport Capital. Meanwhile, she wrote Lady Gabriella attended Brown University and now works as the senior director for Branding Latin American. She also freelances on the side as a writer for The London Magazine.
Congrats to the happy (and very accomplished and well connected) couple!
Check out the entire Gen Why series and other videos on Facebook and the Bustle app across Apple TV, Roku, and Amazon Fire TV.
Check out the "Best of Elite Daily" stream in the Bustle App for more stories just like this!