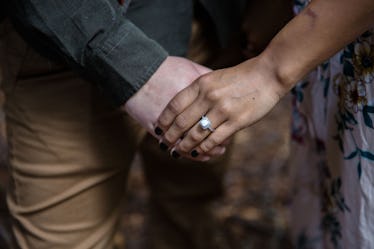 This Woman Posed In Her Cousin's Engagement Photo For A Hilariously Relatable Reason
I'm not speaking from any experience at all whatsoever, but I'd imagine that nailing your engagement photos is probably the most pivotal part of getting engaged. It's something you'll look at for the rest of your life, in order to remember one of the most life-changing events you'll experience alongside your person. Since engagements are usually a surprise, though, it's unlikely you'll be looking your very best at any given moment to snap the best possible pictures. So, when you see how this woman posed in her cousin's engagement photo, you'll most likely be able to relate.
On Saturday, Nov. 3, Twitter user, @goodcalljenjen (aka Jenna) came in clutch with one of the greatest favors known to man (and especially woman)-kind: she filled in with her impeccably manicured hand for her cousin's engagement photos. Apparently, her cousin's boyfriend proposed, but unfortunately, her cousin's nails weren't in tip top shape at the time. So, Jenna put the engagement ring on, and placed her hand in front of her cousin's face in the photoshoot, to make it look like her cousin's manicured hand, with a sparkly little ring on it. It made for the most fabulous and perfect engagement pics, and if you think about it, Jenna is the pal (and cousin) that everyone needs in their lives. For real.
Just look at the engagement photos below, and you'll see exactly what I'm talking about. I don't know about you, but my heart might actually be melting.
This women-supporting-women relationship is totally unreal. Jenna really took one for the team for her now-engaged cousin, resulting in some gorgeous pics. There was a lot of effort put into it, and I don't know about you, but I have so much respect for everyone involved.
As you would have probably imagined, the Twitterverse was all about Jenna's efforts to make her cousin's engagement photos the best she possibly could. I mean, really — she is one caring and crafty gal.
Others are tweeting about how these engagement photos should serve as a life lesson for their partners: don't propose unless their nails are looking impeccable. Without a perfectly manicured (and highly innovative) cousin like Jenna, these amazing pics might not be possible.
Alright, lesson learned: get a cousin (or even just a friend) like Jenna, and also, make sure your boo's nails are manicured before proposing. It's literally that simple.
While I'm on the same subject, if you're looking for some super simple engagement photo tips, take a look at these low-key ideas. It's nothing over-the-top, really — just a few relaxed ways you can show your love for your new fiancé in the form of a few photos.
Engagement pictures are important, so Jenna really stepped up to the plate to sub her manicured hand for her cousin's, in her engagement pics. Everyone should just be more like Jenna in general, because she is the hero that everyone needs.