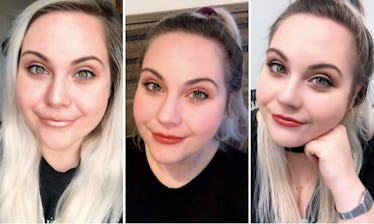 I Did 3 Full Makeup Looks For Less Than $10 Each & My Wallet Is Crying Happy Tears
Theresa Massony
Having grown up in the South, I am no stranger to making pretty frequent trips to Walmart and buying 943,859,234 things I probably didn't need because everything is so freaking cheap. While living in New York City has admittedly dampened my old Walmart game, one of the latest offerings from the Walmart beauty department, Walmart's Beauty Favorites Boxes, has me wanting to make the trek more often. Luckily for me, I was able to try out not one, not two, but three of the newest Beauty Boxes, and let me tell you, this Walmart Beauty Box review is essentially me giving them three thumbs-up if I could.
I'll admit, I am absolutely one to spend way too much money on makeup and one to use at least 20 products for just one look. I'm an impulsive perfectionist with an art background, what can I say? So setting out to do my makeup using only one Walmart Beauty Box at a time was certainly a challenge for me, an ambitious low-key masochist. (Is this narrative making sense yet?) Still, I forged ahead, eager to either prove to myself that my likely-several-hundred-dollar makeup routine was necessary or... actually, yep, that's all I was really hoping for honestly. However, I happily report that Walmart proved me wrong. For all intents and purposes, its Beauty Boxes really do give you pretty much everything you need. And my face flourished because of it.
Talk About A Glo(w) Up
The first Walmart Beauty Box I set out to try was very punnily named "Glow For It" ($9.88, Walmart) Judging by the name, you can guess what was inside: every affordable product you can imagine that would give you the dewy glow we're all after, especially in the summer. The Glow For It box, which retails for $9.88, as all the Walmart Beauty Boxes do, contains five products total that tally up to a $24.95 value all together.
I opened the box to find a sheet mask and a stockpile of various highlighters. Similar to what I do with my problems in life, I typically just cover my whole face in foundation and concealer until I have a pretend clean slate. But with only five products to use on my face, and most of them being highlighters, I had to get a little creative.
To start, I obviously had to cleanse my face of its sins, so I tore open the Brightening Coconut Sheet Mask from Found ($2.50, Walmart) and had a little "me" time for about 15 minutes. (I know, I'm really, really pretty in a sheet mask. You don't have to tell me.) Once I took the sheet mask off, I patted the remaining liquid into my skin until I felt alive again. After that mask alone, my skin had a dewy shine to it that it's never had on its own. Score one for the Glow For It box.
Because I need some sort of color on my eyelids to not feel naked, I took a flat makeup brush and dabbed a little of the CoverGirl Vitalist Healthy Glow Creme Highlighter ($8.94, Walmart) all over my eyelid, because makeup "rules" that dictate you should only put highlighter on your cheekbones are oppressive. Plus, the creme highlighter worked just like shimmer creme eyeshadow and gave my eyes the most delicious pinky shine.
Next, I used the different colors in the Hard Candy Just Glow! Highlighter (currently unavailable, walmart.com) to give my eyes a little more depth. While obviously intended to be used as a highlighter, the Hard Candy colors were pigmented just enough to double as eyeshadow, without making me look like I just poured glitter all over my eyes. (Not that I'm opposed to that in the slightest.) Using a fluffy blending brush, I applied the darker color into my crease, the middle color atop the creme highlighter I had just applied to set it, and the lightest color in the corner of my eye and along my brow bone.
Here's when I actually used highlighter for its "intended" purpose. I dusted the Wet n Wild Megaglo Highlighting Powder ($4.68, Walmart) along my cheekbones and the tip of my nose for a subtle, champagne-colored glow. Hopefully, my future's looking as bright as my face did at this point.
At this point, I can confidently say I was doped up on the sheer amount of glow I was getting — and on the amount of confidence I felt with just these products on my face so far. Completely unhinged, I applied a teensy bit of Chapstick to my lips, grabbed the Hard Candy highlighter once more, took a flat brush to the medium pink color, and packed some shimmer onto my lips.
To seal in the power of shine bestowed upon me, I spritzed Milani's Make It Dewy Setting Spray ($8.97, Walmart) all over my face, locking in my glow for the time being. I felt (and looked) like I had just laid out on the beach all day, without having to set foot in the sand. So I'd call that a win.
Like I mentioned, Walmart's Glow For It Beauty Box retails for only $9.88, coming in hot with a $25 value. (And even that price doesn't sound bad for five good-quality glow tools.) Just as the box said, these products gave me a "youthful, dewy radiance." Considering I felt like a real-life mermaid sunbathing on a rock after this first look, I'd say you should Glow For It with this one.
Lip Service
If I thought I had met my match with having to do my makeup using only glow products, getting creative with the next Walmart Beauty Favorites Box, "Latest in Lips" ($9.88, Walmart) really threw me for a loop initially. This particular box, filled with six lip products designed to give you "fuller-looking, nude-hued lips," again, retails for $9.88, but is valued at $39 and comes complete with a lib scrub, lip plumpers, and lip color.
Because I'm nothing if not a problem solver, I immediately got to work on figuring out how I could incorporate all of these products into one look. I started with the e.l.f. Lip Exfoliator ($3, Walmart), which is essentially a sugar scrub for your lips, but in traditional lipstick form. I applied the lip scrub, moved it around my lips with my fingers in circular motions, and wiped it off with a clean, wet cloth. The flakes hanging on to my lips drifted away, and with them, my worries.
When I'm not spending too much money on makeup, I'm trying to make my lips look bigger. Yes, yes, I know they're fine the way they are, but I just like a bigger lip canvas, you know? Anyway, I applied both the Hard Candy Plumping Serum ($6, Walmart) and the Revlon Kiss Plumping Lip Crème ($7.97, Walmart) one after the other and waited for a bit to let the serums work their magic. Tingly lip sensation, commence.
The plumping serums offered also double as lip glosses, so if you wanted to stop your lip look here, you totally could. But not me. I'm adept at making things more complicated than they need to be.
While I waited for my lips to balloon to the size of Kylie Jenner's (just kidding), I took the Milani Lip Crème ($7.97, Walmart) and, using the wand, dabbed a few touches directly onto my eyelid. It feels good so good to break the beauty rules, doesn't it? I blended the lip creme into my eyelid with my ring finger (gently AF) for an all-over color, and let me just say, this color doubled as the perfect pink-coral eyeshadow — with tons of staying power!
If you take nothing else away from this article, just know that lip products can be used for far more than just your lips. Using my next tool in my Beauty (Tool)Box, Maybelline SuperStay Matte Ink Liquid Lipstick ($7.94, Walmart), I dabbed a teeny, tiny bit onto my cheeks and used my fingers to buff it out. Voila! Blush.
Finally, with my lips plump as ever, I covered my lips in L'Oreal Infallible Pro Matte Gloss ($7.97, Walmart), which glided on my lips ever-so-smoothly, giving me my completed look... using lip products.
Color me incredibly impressed that you can do so much with only six lip products. While I'm not convinced I want to throw out all my complexion and eye products just yet, I am convinced that $9.88 goes a long freaking way.
I Spy With My Little Eye
As a treat to myself, I saved my favorite Beauty Box, Time for Eyes, for last. I live for eye makeup in every sense of the term, so needless to say, I couldn't wait to dig into these products. This particular box equips you with all the tools necessary to complete a full eye look — false lashes, an eyeshadow palette, and all. Like the other two boxes, this one retails for $9.88, but it's valued at about $37. This is the sh*t that turns me on, people.
As a disclaimer, I had an early event before work the morning I tried out this box, so I had to throw a little foundation on beforehand to make it look like I had gotten seven hours of sleep instead of, you know, three. But I waited on eye makeup until I had a chance to sit down with the Time for Eyes Beauty Box ($9.88, Walmart), which would hopefully give me "beautiful eyes," as described on the box. (Kidding again. My eyes are beautiful already. Yours are, too. All eyes are beautiful. Anyway.)
Starting with the CoverGirl TruNaked Nudes Shadow Palette ($9.98, Walmart), I used a fluffy blending brush to cover my entire eye lid with the shade "Shell" as a base. Using an all-over, light color to start allows the other colors you use to appear more pigmented, which is what we all want, right?
Next, taking a smaller crease blending brush, I applied the shade "Fawn" into my crease, and then layered that with the darker shade "Cocoa" in my crease as well to define it and give my eye more depth overall.
I packed the dark, shimmery shade "Coffee" into the outer corner of my eye with a small, round-tip brush and blended it out using a bigger, fluffier blending brush. Let it be known that the CoverGirl TruNaked palette comes with a foam applicator, so if you're not drowning in way too many brushes, you need not worry.
Next, I used a flat brush to cover the center of my eyelid in the shade "Mink." After, I used my finger to pack in a liiiiiiittle more pigment, likely because the Glow For It Beauty Box still had me on a shine kick. Finally, I dusted "Champagne" across my brow bone and packed it into the inner corner of my eye, and my eyes were just as beautiful as they were before, but fiercer.
Because no look (read: my look) is not complete without a thick black line around my eye, I lined my top lash line with Maybelline Lasting Drama Eyeliner ($6.94, walmart.com), which glided on like an absolute dream and had a tip small enough for me to craft a sharp cat eye. Meow, indeed.
Now, I am not a huge false lash user. Frankly, my eyes react weirdly to them, and a lot of times, I simply don't have the time or the patience to apply them. Therefore, I skipped the Kiss Lash Couture Lashes ($7.04, walmart.com) for this look, opting just for the fan favorite L'Oreal Voluminous Lash Paradise Mascara ($8.97, walmart.com). A couple of swipes of this magic mascara on my lashes, and they were soaring to the heavens higher than ever.
To seal the deal, I used e.l.f. Shape & Stay Wax Pencil Clear ($2, walmart) to lock my brows in place (they're long, unruly, and in need of discipline), and I dusted Almay Shadow Squad Eyeshadow ($4.97, walmart) in "Unicorn," a shimmery white shade, along my cheekbones for a highlight. I could've stopped there, but because of that impulse control issue I mentioned earlier, I nabbed the L'Oreal Infallible Pro Matte Gloss from my lip look and used it again here.
I'm not gonna lie, only paying $9.88 for this entire I look (plus the brows and highlight) is absolutely wild to me, considering I've paid a lot more in my time for less fierce looks. And of course, it should be noted that the six (well, five — sorry, falsies) products I used for this eye look could be used to create an infinite amount of other looks, depending on your shadow preferences and your creativity.
While I only used three of the Walmart Beauty Favorites Boxes, the brand boasts six of these magic-holders in total, which are all available for purchase currently on Walmart.com and in 3,000 Walmart stores. Even more, all the products in the Beauty Favorites Boxes are sold individually through Walmart as well. So if you find a particular product you love while trying out the box, you can purchase it on its own if you run out.
Creative makeup looks don't have to cost you an arm and a leg, but you shouldn't have to give up the joy an occasional (or, um, weekly) makeup shopping spree brings you. I say the Walmart Beauty Boxes don't make you sacrifice your money or your spree. Get you some makeup that can do both.