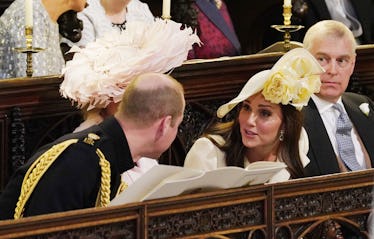 William & Kate Couldn't Stop Laughing At Their Latest Royal Engagement & It Was So Cute
WPA Pool/Getty Images Entertainment/Getty Images
When people compare royals to everyday people, sometimes I just want to laugh. Do royals have to deal with crippling student debt? Nope. Do royals polish off a bag of Doritos binge-watching Netflix shows on a Wednesday night? Probably not. Do royals buy boxed wine because sometimes bottles are too expensive? I'm going to say that's also a hard no. Basically, what I'm trying to say is that the average person has a lot of things in their life that are drastically different from any person in the royal family. BUT! Now and then, we see a moment that makes you feel like maybe we're not so different after all, like this video of William and Kate laughing at a royal engagement. Look, the Duke and Duchess of Cambridge are dressed to-the-nines and look regal and stunning, but watching the two lovebirds chuckle together at something in a private moment makes me feel like that could maybe be me — you know, minus the fact that I could never look like Kate Middleton or ever deal with the rules of living as a royal.
The parents of three attended a ceremony at Westminster Abbey the morning of July 10, celebrating the 100th anniversary of the Royal Air Force. It's a pretty big deal, so the ceremony seemed to be very formal and respectful — only all eyes were on Prince William and Kate Middleton laughing quietly to themselves during a part of the festivities.
While we don't know for sure what caused the reaction, video did capture Prince William finding something quite amusing, so much so that he started to visibly laugh. Kate, who was sitting next to him, turned and saw what was going on, and from the looks of it, it seems like Prince William explained to her what exactly he was laughing at, causing her to start grinning as well.
I'm not going to lie: Seeing this clip only makes my love and appreciation for this royal couple grow ten-fold. Life with a newborn (and two toddlers) is clearly a challenge, so it's super refreshing to see the two parents have a relationship that's still fun and intimate, especially because William and Kate are typically pretty private about their personal life.
And, now that it's been a couple of months since the birth of Prince Louis of Cambridge, we're getting to see more and more of our original favorite royal couple. Most recently, we were able to finally see William and Kate at the christening of Prince Louis on July 9, and it was the first official outing he made with his royal parents.
In a statement on June 20, the Palace gave details about the christening, stating,
Their Royal Highnesses The Duke and Duchess of Cambridge are pleased to announce that the christening of Prince Louis will take place on Monday 9th July at The Chapel Royal, St. James's Palace, London. Prince Louis will be christened by The Archbishop of Canterbury, the Most Reverend Justin Welby.
And, while many people hoped and prayed that Meghan Markle and Prince Harry would be the godparents, Kensington Palace announced who was actually given that honor in a statement released a few hours before the christening. The statement read, "The Duke and Duchess of Cambridge have asked the following people to be godparents to Prince Louis, all of whom are friends or family of Their Royal Highnesses." Then, the names of Louis' godparents were officially released: Nicholas van Cutsem, Guy Pelly, Harry Aubrey-Fletcher, Lady Laura Meade, Hannah Gillingham, and Lucy Middleton. While they aren't who many fans were anticipating, it is a group of close friends and family members to the couple, so little Louis is in good hands.
We were also blessed with some updated pictures of the tiny royal, which was enough to make me squeal:
And we even got an updated family photo, which shows just how much Prince George and Princess Charlotte of Cambridge have grown:
My heart.
If Kate Middleton and Prince William aren't your idea of #RoyalCoupleGoals, then we need to talk, because these two are crushing the game in every which way. Let's hope we see many more happy memories between the two of them being caught on footage in the years to come.