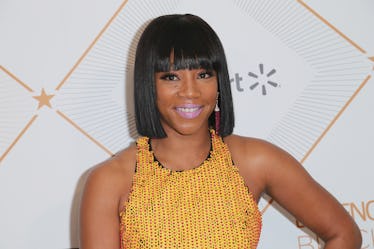 Tiffany Haddish Did The Most Hilarious Thing To Meryl Streep On The Oscars Red Carpet
Leon Bennett/Getty Images Entertainment/Getty Images
The red carpet before this year's Academy Awards were kind of boring to be honest... except for one person who made the whole thing amazing. As always, Tiffany Haddish stole the show. The Girls Trip star rocked one of the most incredible looks on the red carpet, and she topped that all off with her signature hilarious antics. For instance, Tiffany Haddish and Meryl Streep had a hilarious Oscars moment on the red carpet that is already the highlight of the whole night!
It was clear when she first stepped on the red carpet that Tiffany Haddish was going to be the bright spot of the whole night. She looked like an actual queen in a regal, traditional Eritrean gown, which she explained was an homage to her father. In a red carpet interview with Michael Strahan for ABC, Haddish explained that her father died last year, and before he passed he told her that if she ever made it big then she should pay tribute to her people. Haddish's father, Tsihaye Reda Haddish, was an Eritrean refugee, so she chose to represent Eritrea with her traditional dress.
In that same interview, Tiffany Haddish also shared her goal for the Oscars night: to meet Meryl Streep. Haddish said that she wants to get Streep to play her mother in Girls Trip 2... which I am soooo here for. And Haddish proved her dedication to this task right away. Fans caught a video of Haddish jumping over the velvet rope when Meryl Streep was walking down the red carpet, and curtseying in front of the actress. Unfortunately, it does not look like Streep fully understood what was happening, but the moment is still instantly iconic! Check out the video below:
I am just praying that Tiffany Haddish was able to meet up with Meryl Streep for a little bit longer at some other point during the Oscars for the two to talk about working together. After all, Streep is clearly open to surprising new projects after recently signing on to star in the second season of Big Little Lies, and Haddish's star is on a meteoric rise after the breakout success of her role in Girls Trip. Maybe a collaboration between the two isn't so farfetched.
Plus, Tiffany Haddish just has a way around Hollywood legends. Remember when she met up with Barbra Streisand a few months ago?
Unfortunately, Tiffany Haddish was not up for any awards at the 90th Annual Academy Awards, despite some buzz ahead of the nominations that she me get a Best Supporting Actress nom for her breakout role in Girls Trip. Although she didn't wind up getting that nom, Haddish did get in with the Academy by serving as one of the announcers of the Oscar nominations this year. On the other hand, Meryl Streep landed a history-making Best Actress nomination this year for her lead role in Steven Spielberg's The Post, marking her 21st Oscar nomination.
Let's cross our fingers and hope that Tiffany Haddish did end up getting a convo with Meryl Streep at some point on Sunday night. Haddish has been talking about her interest in making a sequel to last year's smash comedy Girls Trip for a while now, telling People a few months ago that if they made a Bad Moms 2, then there should be a Girls Trip 2 as well. Just imagine how amazing a second Girls Trip movie would be with Meryl freakin' Streep in it... and playing Tiffany Haddish's mother no less! I guess we are just going to have to wait and see if Haddish completed her mission to get Streep on board. Until then, we got a hilarious video from the moment.