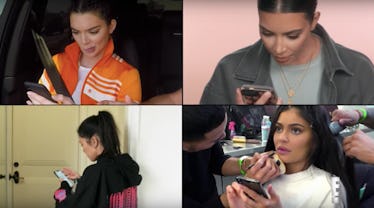 This Video Of The Kardashians Learning Of Tristan Thompson's Reported Cheating Is A Lot
YouTube
Well, you guys, the Keeping Up With The Kardashians episode that we've all been waiting for is finally making its way to our television screens. It's been one hell of a year for Khloé Kardashian — between reports of boyfriend Tristan Thompson's infidelity and giving birth to their daughter, True, there has been no shortage of drama for the Kardashian sibling. And on this season of Keeping Up With The Kardashians, we knew we'd watch it all play out, but this video of the Kardashians learning of Tristan Thompson's reported cheating is almost too much to bear.
If you're rusty on the details, let me give you a refresher. Back in April 2018, right around the time Kardashian was about to give birth, video footage obtained by The Daily Mail appeared to show her 27-year-old NBA star boyfriend Tristan Thompson kissing another woman, and then shortly after, another video was published by TMZ showed surveillance footage of Thompson reportedly kissing two other women in a hookah lounge. Elite Daily previously reached out to Kardashian and Thompson's teams for comment on the reports but did not hear back by the time of publication.
All of this happened just days before Khloé Kardashian gave birth on the morning of Thursday, April 12, to her daughter, True — which many fans speculated was sketchy timing and that it was too much of a coincidence for both of those events to happen at the same time unexpectedly. Others defended Kardashian, noting that the reason Khloé might have gone into labor was from stress caused by the cheating allegations.
While there have been plenty of twists and turns along the way, we're now at the point where an exclusive clip from Sunday's Keeping Up With The Kardashians shows the family's reaction to the news of Thompson's reported cheating scandal, and let me tell you, this is a damn saga.
Here's how the footage played out: we see the Kardashian-Jenner siblings all receiving news while on-camera, apart from each other. The first person we see to read the news is Kendall Jenner, who's in the car with Scott Disick. All we see is her gasping at her phone over the news, and Disick looking at her phone and saying, "Stop! Bro, that's pretty serious, isn't it?"
Then the video split-screens to Kim Kardashian, and her phone chimes with the news while she's in her KUWTK confessional taping. The video split-screens once more, adding Kourtney and Kylie all receiving the news on their phones as well.
"There's video of Tristan making out with a girl last night," Kim says, adding, "Khloé's gonna die." The video zooms in to Kendall and Kourtney's current whereabouts as they read the news.
"This is really shocking and obviously heartbreaking," Kourtney says. "The whole thing makes me disgusted."
We then learn that the siblings all try to figure out the best way to respond to the situation that has unfolded, and we find out that Kylie was the one who sent Khloé an article about the reported footage.
"No one had the courage to tell Khloé, because we knew she was days away from giving birth," Kylie explains. "We didn't want to stress her out, but we knew it was the right thing to do."
The whole thing is so gut-wrenching to watch, but we all knew that at some point or another, we were going to have to watch it all brutally play out. Watch the clip below to see for yourself:
It looks like we'll have to wait and see what happens next on the episode, which airs on Sunday on E!