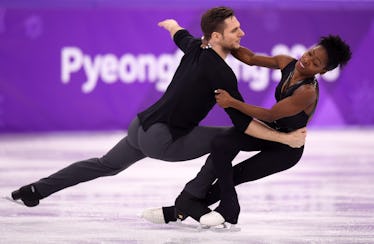 The French Pair Skated To A Classic Song At The Olympics & The Vid Is Breathtaking
Harry How/Getty Images Sport/Getty Images
I'm a total sucker for classic rock, even when it's covered by modern bands. You might even call me an "old soul" for admitting that one of my favorite duos ever is Simon & Garfunkel. However, a different duo stole my heart during the pairs figure skating segment of the PyeongChang Winter Olympics on Thursday, Feb. 15. Once again, Vanessa James and Morgan Cipres showcased their fabulous taste in music when they skated to a '60s hit. As expected, this video of the French pair skating to a "Sound of Silence" cover will take your breath away.
For those of you who aren't familiar with the classic song, "Sound of Silence" was written by Paul Simon of Simon & Garfunkel in 1964, and is still hugely popular today (I listen to it at least once a week). However, the French pair didn't skate to Simon's classic. Instead, they performed to a cover of the song — but it was just as good as the original. The "Sound of Silence" cover they skated to was released by the rock band Disturbed in 2015, and viewers recognized it almost immediately. A segment of James and Cipres' performance was captured, and it'll give you chills.
Pretty impressive, right?
You can see the full routine in the NBC broadcast here. After watching the program, Twitter went wild with support. Most people who know and love the hit song reacted immediately, and the tweet post-performance prove James and Cipres have a true Twitter fanbase.
The performance made this Twitter user's life.
Yup. Hard rock music is "taking over" the Olympics.
Some people got really emotional.
Others were totally pumped.
Even folks who don't typically watch the Olympics loved the performance (mainly because of the song choice).
The duo's performance was truly breathtaking.
If those tweets inspired you to listen to the full version of "Sound of Silence," you can listen to Simon & Garfunkel's original version here and Disturbed's version here. Both renditions of the song will give you chills.
With the classic song featured in their free skate routine, Vanessa James and Morgan Cipres hit both spectrums of the music charts in PyeongChang. For their short program, the duo skated to an Ed Sheeran song that you've probably heard before. The song, "Make it Rain" (originally written by Foy Vance), won over viewers' hearts as they watched the duo's program on Feb. 14 (PyeongChang time). Sheeran's cover of Vance's song can be heard on his 2014 album, X (pronounced as "multiply"). If you haven't listened to it yet, I highly suggest doing so. Between "Make it Rain" and "Sound of Silence," there's no doubt in my mind that James and Cipres have an awesome iTunes library on their phones.
The French duo has been skating together since 2010, according to Ice Network. With that being said, each skater is no stranger to the ice rink. James previously competed in 2014 at Sochi's Olympic Winter Games and at Vancouver in 2010. However, she started skating in 1998... so I'd say she definitely knows a thing or two about the sport. Cipres, meanwhile, started skating when he was five years old. He also has an extensive background in the sport, and competed in his first Olympic Games in Sochi in 2014.
As imagined, combining the skill set of each skater results in breathtaking performances on the ice, and their music choice definitely adds to the allure. Even they didn't take home the gold for their "Sound of Silence" performance, I'll be watching (and listening) to their performance on repeat.
Check out the entire Gen Why series and other videos on Facebook and the Bustle app across Apple TV, Roku, and Amazon Fire TV.