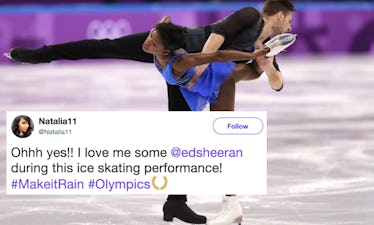 This French Pair Skated To An Ed Sheeran Hit At The Olympics & Twitter Is In Shock
RICHARD HEATHCOTE/GETTY IMAGES SPORT/GETTY IMAGES
Until the 2018 Winter Olympics in PyeongChang, South Korea, you may have noticed that a lot of ice skaters performed to classical music. Which, don't get me wrong, is still straight up majestic-as-heck, but I personally feel that watching the figure skaters' performances in this year's games — dancing to so many of my favorite tunes — has been beyond amazing. And, based on the tweets about the French Olympic pair skating to Ed Sheeran, I think everyone is pretty happy about it.
France's beloved ice skating duo (and honestly, the DJs of our dreams), Vanessa James and Morgan Cipres, have put on some really stellar performances in the past. Vanessa James, age 30, had previously competed in 2014 at Sochi's Olympic Winter Games, per her Olympic.org bio. In 2010, she competed in Vancouver. However, she actually started skating in 1998.
Morgan Cipres, age 26, competed in his first olympic games in Sochi in 2014, and has been skating since he was five years old. According to the Web Ice Network, the duo teamed up in 2010, and they haven't looked back. It's safe to say that the pair is a pretty solid duo.
On Feb. 13, the two talented skaters kicked some major ice booty together, and performed to the figure skating song of our dreams, which is Ed Sheeran's "Make it Rain" from his 2014 hit album, X. The track was originally written by Foy Vance in 2014. The bottom line is this: If you didn't get the glorious chance to watch it, you were definitely missing out. Apparently, it was hella dramatic, but so, so beautiful — and quite literally #skatinggoals. Like, if any of you can recreate that amazing performance with your boo, your best friend, or some random guy you meet at the rink, please do so, and then take a video... because I am so into it. And based on these Twitter reactions from the performance, I'd say everyone on the internet would be all for it, as well.
According to Billboard, the olympic governing body for ice skating actually changed their rules about song choices on the rink. Apparently, the newly implemented figure skating restrictions now allow performers to select a song of their choice for their performances. This can now include anything from pop to rock soundtracks. So if you were feeling like the figure skating performances have been a little less sleep-inducing during this year's 2018 Winter Games, it's probably because you've really just been wanting to dance along with them. Because honestly, if "Make it Rain" doesn't automatically make you strike some super dramatic poses, I really have no idea know what will.
Per Billboard, there have been several other figure skaters to choose popular lyrical songs to skate to this year, as well. Figure skaters Julianne Séguin and Charlie Bilodeau, both from Canada, danced to Lorde's rendition of "Everybody Wants to The Rule The World" (which was obvi a stellar choice), while Sui Wenjing and Han Cong from China performed to a cover of Leonard Cohen's beautiful and tear-jerking hit, "Hallelujah." Nicole Della Monica and Matteo Guarise, from Italy, skated along to "Magnificat" by Mina, and Canada's Meagan Duhamel and Eric Radford performed along to a cover of "With or Without You" by U2 (which, if you watched Friends, will never fail to trigger those emotions). It's safe to say that the Gangneung Ice Arena has seriously been booming with all of our favorite hits, and I'm am beyond stoked about it.
Check out the entire Gen Why series and other videos on Facebook and the Bustle app across Apple TV, Roku, and Amazon Fire TV.