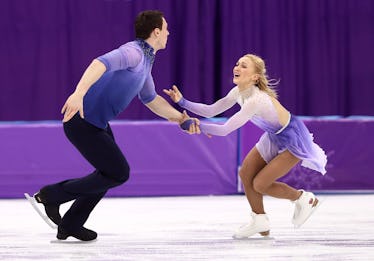 The Vid Of The German Pair Skating Before Getting The Gold Will Make Your Jaw Drop
Jamie Squire/Getty Images Sport/Getty Images
After their record-breaking, gold medal-winning performance in PyeongChang, German ice skating duo Aljona Savchenko and Bruno Massot fell to the floor, faces full of both exhaustion and satisfaction, embracing while their bodies lay on the ice. It was an amazing reaction to an amazing performance that will now be remembered as one of the best in Winter Games history. Simply put, the video of the German medal-winning pair skating at the Olympics is a must watch.
After the short program portion of the PyeongChang Olympics' pairs ice skating competition — the portion which featured a memorable Valentine's Day performance from a married American duo — Savchenko and Massot had been fourth among all pairs.
Their free skate performance, however, propelled them to a combined score of 235.90 points, enough to claim a slim win over Chinese competitors Sui Wenjing and Han Cong, who fell shy with a score of 235.47.
On their way to winning gold medals at the Gangneung Ice Arena on Thursday, Feb. 15, Aljona Savchenko and Bruno Massot broke the world record for the highest score ever achieved for a free skate performance, with a score of 159.31. The previous world record was set by none other than... Savchenko and Massot.
You can see part of their routine in the video below, and the full routine can be found here on NBC.
The scope of Savchenko and Massot's performance has been reflected by the near-unanimous and effusive praise from media personnel covering the Olympics.
The Washington Post labelled the performance "perfection." The Associated Press called it "flawless." American skating legend Tara Lapinski — a gold medalist herself at 1998 Winter Games in Nagano, and current commentator for NBC — provided emphatic praise during the broadcast of the performance, in just three words: "That. Was. Fearless."
For Savchenko, the win in PyeongChang marks her first gold medal in five attempts. The 34-year-old had previously won two bronze medals, one at the 2010 Olympics in Vancouver and another in 2014 at the Sochi Winter Games. Her first time competing at the Olympics was in 2002, at the Salt Lake City Winter Games.
"Today I wrote history," Savchenko said after Thursday's performance, per NBCOlympics.com. "This is what counts. It is my moment. We celebrated new year together and we said 2018 will be our year and it became our year."
For Massot, the gold medal performance was a rebound from an error he committed a night before, when the French-born (and recently naturalized German) skater made an effort to pull off a triple jump during the short program round on Wednesday, which only resulted in a double jump.
"I got the gold medal in my head. Yesterday I said I don't want her to come back with another bronze medal. She deserved this gold medal," Massot said, according to NBC Olympics.
There were other performances of note on Thursday, some better than others. France's Vanessa James and Morgan Cipres performance to a cover of "Sound of Silence" was noted for the breathtaking maneuvers it included.
On the other hand, American duo Alexa and Chris Knierim's performance saw multiple falls, leading to a disappointing finish.
"Unfortunately, too many mistakes today," Alexa Knierim said after the free skate performance, per NBColympics.com. "It was one of our lowest scores. I was sick last night and this morning with a normal stomach bug. I had asked Chris to kind of pick up the slack for me today because I knew I was going to be more fatigued, but then my adrenalin kicked in and I rose to the occasion. I think his fatigue might have set in because he was concerned for me."
Alexa and Chris Knierim still have a bronze medal to their name, which they won in the team skating competition. As for Aljona Savchenko and Bruno Massot, they'll be leaving PyeongChang with gold around their necks, after a chilling, record-breaking performance.