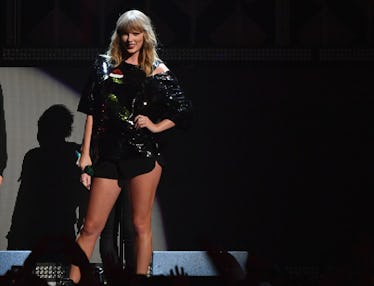 Taylor Swift Got Stuck On A Platform During A Show & Her Reaction Was Everything
Dia Dipasupil/Getty Images Entertainment/Getty Images
All Swifties know that Taylor Swift is currently wowing crowds across the country during her Reputation Stadium Tour. The superstar was in Philadelphia for her concert on Saturday, July 14, but the show did not go as planned. Of course, Swift is a total professional, and she made sure that the show went on. This video of Taylor Swift stuck on a platform at her concert in Philly will have you seriously impressed with her masterful recovery.
If there's one thing that her fans know, it's that you will see the performance of a lifetime when you go to a T. Swift concert. The singer famously adores her fans, and she works hard to make each show a memorable experience for them. Well, Saturday's show in Philadelphia will be hard to forget after Swift got stuck in a set piece that was supposed to float her out above the crowd, according to Cosmopolitan.
As she sang "Delicate," Swift was perched over the crowd in what she described as a "sparkly basket," and she explained to the audience what happened in a video from the concert posted to Twitter by @MegNFry. While she was stuck in the air during the song, Swift kept it real as she said, "I'm pretty sure I'm stuck up here. It's a nice view though," according to a video posted to Twitter by @LisaMarieLatino.
LOL, Taylor.
Swift was finally lowered down — after finishing the song like a pro — and she seemed pretty unfazed by the technical malfunction as she shared with the crowd, "I feel like it's really important to be honest with friends." Swift then explained to her thousands of friends at the concert:
So what you just saw was me going like straight up and down in the sparkly basket, and it's supposed to take me to the other side of the stadium…
She laughed it off a bit as the crowd cheered her on, and then Swift had to figure out how to get to the next part of her show.
Pointing across the stadium, Swift pondered her next move aloud as she said, "I'm somehow gonna figure out how to get over there." There was some talk of walking across the stadium — which was met by cheers of approval from her fans — but there were still logistics that needed to be figured out. As Swift and the crowd waited, she decided to pass the time with an a cappella version of "Our Song."
One throwback tune apparently wasn't enough time to get the show back on track, so Swift kept the crowd going with a performance "Wildest Dreams." OK, the Saturday night Philly crowd totally got their money's worth at the July 14 show with two bonus songs from Swift during the malfunction.
Swift never let on that she was annoyed or frustrated throughout the entire ordeal, and the crowd gave Swift all the support in the world right back to her. It was a Swiftie love-fest, and TBH, I'm kinda jealous I missed it.
T. Swift's Philadelphia show was filled with surprises even before the concert. During the pre-show meet-and-greet, two Swift fans made Saturday night a night to remember when they got engaged right in front of Swift herself. It was only fitting that the couple, Anthony and Stephanie, got engaged with Swift in attendance, because the couple first met at her Red concert in Philadelphia in 2013 (!!!).
Swift shared a photo of the sweet moment complete with her surprised reaction to Instagram on Saturday, and she captioned it:
They walk into the meet and greet and he says "We met 5 years ago at the Red Tour" and then..... 😻😻😻😻😻😻😻😻😻😻😻😻😻#thirdwheel
With sparkly basket malfunctions and surprise proposals, Swift's Philadelphia concert on Saturday night will be show to remember for years to come.