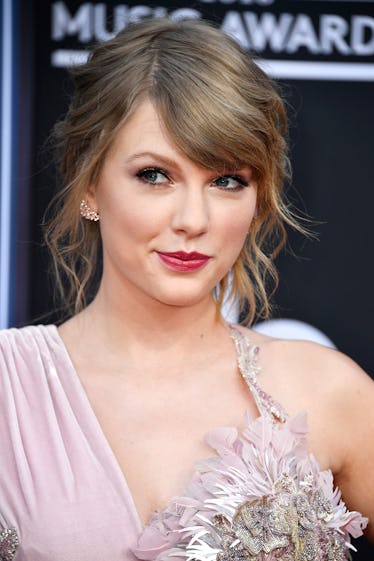 Taylor Swift Called Herself A "Third Wheel" After Her Fans Got Engaged, & Same
Frazer Harrison/Getty Images Entertainment/Getty Images
Taylor Swift: record-breaking pop star and... matchmaker? It sure seems like it for one pair of Swifties who reportedly met during the songstress's Red tour five years ago. The couple credits Swift for "bringing them closer" since the event. Fast forward to the Philadelphia Reputation show on Friday, July 14, where Swift — aka patron of love — unknowingly helped the proposal of a lifetime happen between that very couple. Check out the whole story below, because it's so heartwarming. Plus, Taylor Swift's reaction to her fans getting engaged is way too relatable.
Say what you want, but there's no denying that Taylor Swift's albums are always the perfect remedy for each and every life situation involving love. Whatever feelings you're experiencing at the moment, there's bound to be a track (or two) full of spot-on lyrics to help you get through them. Suffering through a tough break-up? Unrequited love? Nostalgia for your ex? There's a T-Swift ballad for that, so it's unsurprising that a pair of diehard fans thought a backstage meet-and-greet with the star was the perfect opportunity to decide to live happily ever after together.
According to People, a man named Anthony had been planning a proposal to his girlfriend of five years when he realized he was going to need a certain celebrity cameo to make their special day complete. The pair had first connected with each over the ballads of Red during a 2013 Philadelphia show, so Anthony decided the July 14 meet-and-greet was the perfect time to get down on one knee and propose to his girlfriend, Stephanie, while hanging out backstage with Taylor Swift.
When the "Wildest Dreams" hitmaker took to Instagram to share the sweet moment, I had a hard time focusing on the happy couple... because Tay's expression is everything.
As for what thoughts were running through her head during the third-wheel moment, well, they're so relatable. It turns out that she's just like any of us would be in that situation, and all I can say is, same.
The Pennsylvania native captioned the heartwarming shot:
They walk into the meet and greet and he says "We met 5 years ago at the Red Tour" and then..... 😻😻😻😻😻😻😻😻😻😻😻😻😻#thirdwheel
However, because she's Taylor Swift and she's built a career writing about relationships, the singer didn't let a little third-wheeling ruin the sweet gesture. From the sounds of it, she totally enjoyed her role as an engagement fairy godmother.
After the proposal, Anthony tweeted about what went down, and it makes me love Taylor even more. "[Taylor] called me a baller and said that she is never surprised," he wrote. "She also said we were incredible and to go get married!!!! IS THIS REAL LIFE?!?!"
The "End Game" hitmaker might be a little more undercover when it comes to her own fairytale romance with Joe Alwyn, but that doesn't mean that things aren't getting more serious. While she's understandably been busy traveling around the world for her Reputation tour, the couple made time for a laid-back getaway in Turks & Caicos over the Fourth of July holiday.
That paired with the fact that the couple is reportedly "happier than ever" means I can't help but ship these two and hope their love is the real deal. That being said, while I totally respect that these lovebirds have kept their private relationship under wraps for now, I wouldn't mind getting a few more public sightings if they decide to take their romance to the next level. I think we all need some more #RelationshipGoals in our lives during these tough times, and who better to deliver them than Tay?
Now that Swift has helped make this totally magical love story happen and that the bride-to-be said yes, there's only two questions left: What T-Swift song will the newly-engaged couple dance to at their wedding? And, will Taylor Swift get an invite?