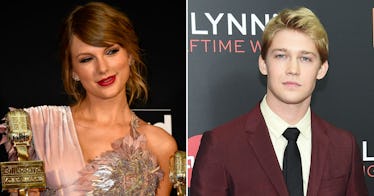 Joe Alwyn Reportedly Makes Taylor Swift Happier Than Any Of Her Exes Did For This Reason
Frazer Harrison/Getty Images; Jamie McCarthy/Getty Images
They were recently spotted holding hands and drinking on the beach in Turks & Caicos over the Fourth of July holiday, but for the most part, Taylor Swift and her actor-bae Joe Alwyn have kept their relationship on the down-low. And yes, it's been more than a little frustrating for all of us Swifties who just want to know exactly how serious these two are. Like, is he gonna end up on her long list of ex-lovers or not? But now we have a new Taylor Swift and Joe Alwyn relationship update and OMG you guys, it looks like shiz is getting REAL.
Because not only is Alwyn reportedly responsible for teaching Swift how to value her privacy, but according to Us Weekly, he's also got the "Look What You Made Me Do" singer feeling more blessed and content than ever. "Joe has really showed her a different lifestyle and the value of privacy," a source told the publication. "She's the happiest she's ever been." Elite Daily reached out to Swift and Alwyn's teams for comment on the report, but did not hear back by the time of publication.
But did you hear that? She's the happiest she's ever been. Sounds like T.Swizzle is finally living her best life. So, like, way to go, girl! I mean, she def deserves her props, don'tcha think?
Swift's been linked to Alwyn for over a year now, but she's been way more chill about the whole thing than she was back when she was dating former boyfriends like Calvin Harris, John Mayer, and Tom Hiddleston. So maybe she's learning from the past?
According to Us, Swift and Alwyn have promised to keep their relationship on the DL, and they've done everything they can to keep it that way. "Taylor is so much happier without her personal life in the open," the source explained. "She credits Joe for that and realizes how much better off she is."
Well, well, well, looks who's all grown up now! The pop star even skipped out on throwing one of her epic Fourth of July parties this year, and instead hit up the beach in Turks with her man for a quiet getaway. "They seemed genuinely happy," a source told Us. "They were always smiling and close to each other, but kept to themselves."
Good on them. Although, TBH, I'm kind of bummed out about not getting to see all those awesome Instagram pics of Swift and her girl squad celebrating Independence Day in their patriotic red, white, and blue outfits. I mean, it's not like I'd ever be invited to this bash or anything. But I look forward to Swift posting those shots more than I look forward to seeing fireworks #justsaying.
So dope. And now, so over.
Anyway, in case you're wondering how Swift and Alwyn have managed to keep things on the down-low for so long, according to E! News it has to do with the fact that the pair spends so much time in London.
"Taylor has been in the U.K. a LOT more than people know," a source told the outlet back in February. "She has the entire routine down pat now." That means she flies in like a true rockstar via private jet, and is then driven straight to north London in a nondescript car with blacked-out windows. Once she gets to Alwyn's place, the couple just stays in instead of making a big scene by hitting up clubs, bars, and restaurants.
"People just won't see her," the source said. "Unless you're part of her inner circle, you wouldn't know when she is or isn't here."
I get it, Taylor. I'm not in your inner circle. I'm still happy for you, though. Keep on enjoying that privacy, girl! Although, if you do decide to post a few Fourth of July pics and make Taylor Nation happy, I'd totally be here for that, too.