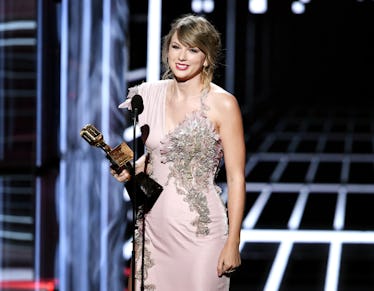 Taylor Swift Honored Manchester Victims During Her Concert & It Was So Touching
Kevin Winter/Getty Images Entertainment/Getty Images
One year later, Taylor Swift is paying homage to the victims of the Manchester, England bombing and praising the city's "resilience to keep dancing." The "Bad Blood" songstress had an uplifting message for the crowd as she kicked off the European leg of her Reputation Stadium Tour at Manchester's Etihad Stadium on Friday, June 8, and it'll give you all the feelings. Prepare yourself for a real tear-jerker, because Taylor Swift's tribute to Manchester victims during her concert was so touching.
Taylor Swift's Reputation tour is currently on track to be one of the most successful shows to date, according to Billboard. The publication reports that she's already brought in over $54 million from just five shows, and she has her picks of concert venues around the world with Swifties eager to see Reputation tracks like "Delicate" and "Look What You Made Me Do" live. So I thought it was a powerful gesture that the songstress made her European debut extra meaningful by booking her first concert at Etihad Stadium in Manchester, England.
When the Grammy Award-winning singer took to the stage on Friday, she arrived prepared with a solid lineup of hits and some words of comfort for the city, which suffered a deadly bomb attack at the same venue on May 22, 2017. According to People, more than 500 people were injured and 22 were killed during the devastating attack, which occurred during Ariana Grande's Dangerous Woman tour and led to a global show of solidarity with last June's star-studded One Love concert.
"You've shown that you're never gonna let anyone forget about those victims," Swift addressed the tearful audience, according to People. "And you've shown that you have such incredible resilience to keep dancing and to keep the innocence and to keep the joy." I'm not crying, you're crying.
She concluded her emotional speech, "I just want to say, Manchester: It is such an honor to play for you tonight."
Swift then reportedly dedicated an acoustic rendition of her super-sad ballad, "Dancing with Our Hands Tied," to the city, and literally everyone was bawling their eyes out.
In case you missed it or want even more Reputation magic, Swift will perform one more show in Manchester on Saturday, June 9, before heading over to Dublin, Ireland's Croke Park from June 15-16, and Wembley Stadium in London from June 22-23. After that, she'll cross the pond back to the United States for a show in Louisville, Kentucky on June 30.
It's no secret that the "End Game" singer has a soft spot for the U.K. After all, she's dating British actor Joe Alwyn, and I have a feeling that this notoriously undercover couple will make more than a few public outings together when she's in town. Rumors have been swirling that the star was house hunting to be closer to her beau, but they have since been debunked (Tay is currently living on the road with a busy tour schedule, after all).
Swift isn't the only celebrity who's been showering Manchester with some serious love in the wake of the attack. Ten days after the bombing, Ariana Grande returned to the city to put on a One Love benefit concert with an A-list lineup of musicians, and it was the global display of support and unity that I think we all needed during that time.
Then, just a few weeks ago, the "No Tears Left To Cry" star proved that the victims are still very much in her thoughts one year later as she shared an Instagram with her commemorative bee tattoo as well as a Twitter video from the city. She captioned it,
"So wish i were there with u all today. u have no idea. love you so v much."
Gone, but not forgotten. I'll be staying tuned to see if Swift finds another way to pay homage to the Manchester bombing victims when she closes out her stay on Saturday night.