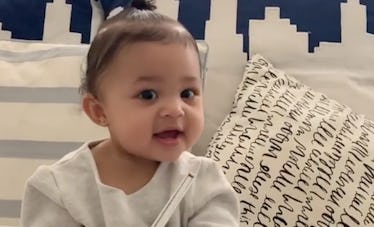 This Video Of Stormi Dancing At Travis Scott's Concert Is The Cutest Thing You'll Ever See
Instagram
It's kind of extraordinary to think about what it's like to be the offspring of the Kardashian/Jenner clan. It's so easy to get wrapped up in what's going on with Kourtney, Kim, Khloé, Kendall, Kylie, and occasionally Rob, that I sometimes forget there's a whole new generation hanging out in the exact same mansions, behind the exact same cameras. Take baby Stormi, for example. Her mother is the world's youngest self-made billionaire and her dad is an emerging rap icon. In fact, Stormi's on tour as we speak. The video of Stormi dancing at Travis Scott's concert is so freaking cute and also so far from my childhood experience. I'm truly living vicariously through her.
Scott is currently blasting across the nation on his Astroworld Tour with Stormi and Kylie in tow. The 26-year-old rapper has opened up about what it's like to be simultaneously pursuing his dreams while his growing family is along for the ride. To be honest, it sounds like tour life is weirdly ideally set up for an infant. E! News reports that on Nov. 13 during a visit to the Children's Healthcare of Atlanta at Egleston hospital, Scott explained, "I keep Stormi on the road, she's got her own dressing room vibe, got her own bus vibe."
Ugh, she so would.
Her "vibe" shines through in the video of her dancing to her dad's music backstage. Around midnight on Tuesday, Nov. 27, Scott posted the gem to his Instagram account with the caption, "MSG ALL RAGERS INCLUDED." Stormi is caught grooving, laughing, and basically just having the best time ever while her dad tears up the stage on a TV in front of her. She's rocking a camouflage vest (which I didn't even get the memo were in right now, btw) a white turtleneck, and adorably tousled hair.
It's kind of the best.
Scott called his current situation touring with his family his "life goal" and said he's just happy to have Stormi "be a part of what he's living." He explained,
It's so hard, because I grew up in a different household where I never had a nanny or nothing like that—my parents were never on a tour—so being able to do that and figure it out at 26, it's like hard, but when you're going through it, it's like, 'Oh this is dope.'
The "Sicko Mode" star also described the kind of lifestyle adjustments he's learning to make so his daughter can thrive in her unique situation. "You cut a lot of stuff out so that Stormi can have her best life, illest, illest time," he said.
As for diapers, he mostly leaves that up to Kylie. "I've done it a couple of times, since it's my daughter," says Scott. "I kind of let her mom do that. She's really on it with the changing diapers."
Right now, Scott's last performance before Christmas is scheduled for Dec. 22 in Portland, Oregon. Then, it's back to family business where he, Kylie, and Stormi are planning on "twinning" for Christmas in matching PJs. According to Scott, "When you get a girlfriend you just start liking all types of stuff."
Mm-hm. Checks out.
Now, someone tell me if I need to buy camo Christmas PJs or what.