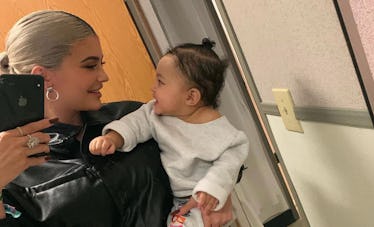 Stormi Crashed Kylie Jenner's New Makeup Tutorial In The Cutest Way Possible
Instagram/Kylie Jenner
I used to love starting my day off with a little bit of Kylie Cosmetics, but now I love to start my day off with a little Kylie Cosmetics plus a dash of Stormi Webster. The makeup mogul and her baby girl are busy touring the country with Travis Scott on his Astroworld Tour, which means sweet behind-the-scenes family moments and some awesome Stormi cameos. The wee-one recently popped up in a makeup tutorial as her mom got ready for another night of music and travel and fans are loving it. The video of Stormi crashing Kylie Jenner's makeup tutorial is everything you didn't know you needed out of a makeup lesson.
The video starts off pretty straightforward. If you've caught any of Jenner's makeup tutorials before, you know she mostly carries her own products and likes to play around with colors. This particular tutorial is special because it features a quick peek into her and Scott's life on the road. Jenner's lighting and camera equipment are set up in the corner of what appears to be a giant hotel room (which she gets to later).
Just when you think Jenner is going to drop some inspired cat-eye tips and tricks on you, she puts her hand on the camera before she pulls it away to reveal Stormi in her arms. "Alright! Liner's on and Stormi's awake," she sings. If I can be the most real for a second, the Kardashian/Jenners really do make beautiful babies. Sure, each and every human child is special and an angel etc. etc., but have you seen this kid's cheeks?! Stormi casually glances at the camera as Jenner explains she needs to take a quick break from her tutorial to go do her daughter's hair.
Fine. I'll allow it.
You can fast-forward to the 2:50 time stamp to see Stormi's appearance or start at the beginning if you want to learn about how to warm up your skin tone. (TBH, the makeup bit gets better later in the video, too, though. There, I said it. Don't @ me.)
Take a look:
Even if you aren't invested in Jenner's bright pink tear ducts, you'll surely get a kick out of Stormi singing and playing in the background. You can also scoot ahead to hear Jenner talk about her and Scott's life on tour. Jenner talks a little bit about their travel life setup, explaining,
Me and Travis have our own room and I always get a separate room so I can put all the clothes... I always get a separate room for all my wardrobe, my makeup and also, Stormi, so she can play around and have more space when we're in hotel rooms.
The video ends with Jenner showing off her final look: a beanie, a heavy coat, high-shine leather pants, and sneakers. Scott is spotted in the background waiting to take her hand so they can exit their hotel, pass the paparazzi, head into their tinted car, and ultimately go shopping.
Obvi.
Somewhere, I can still hear Stormi singing.