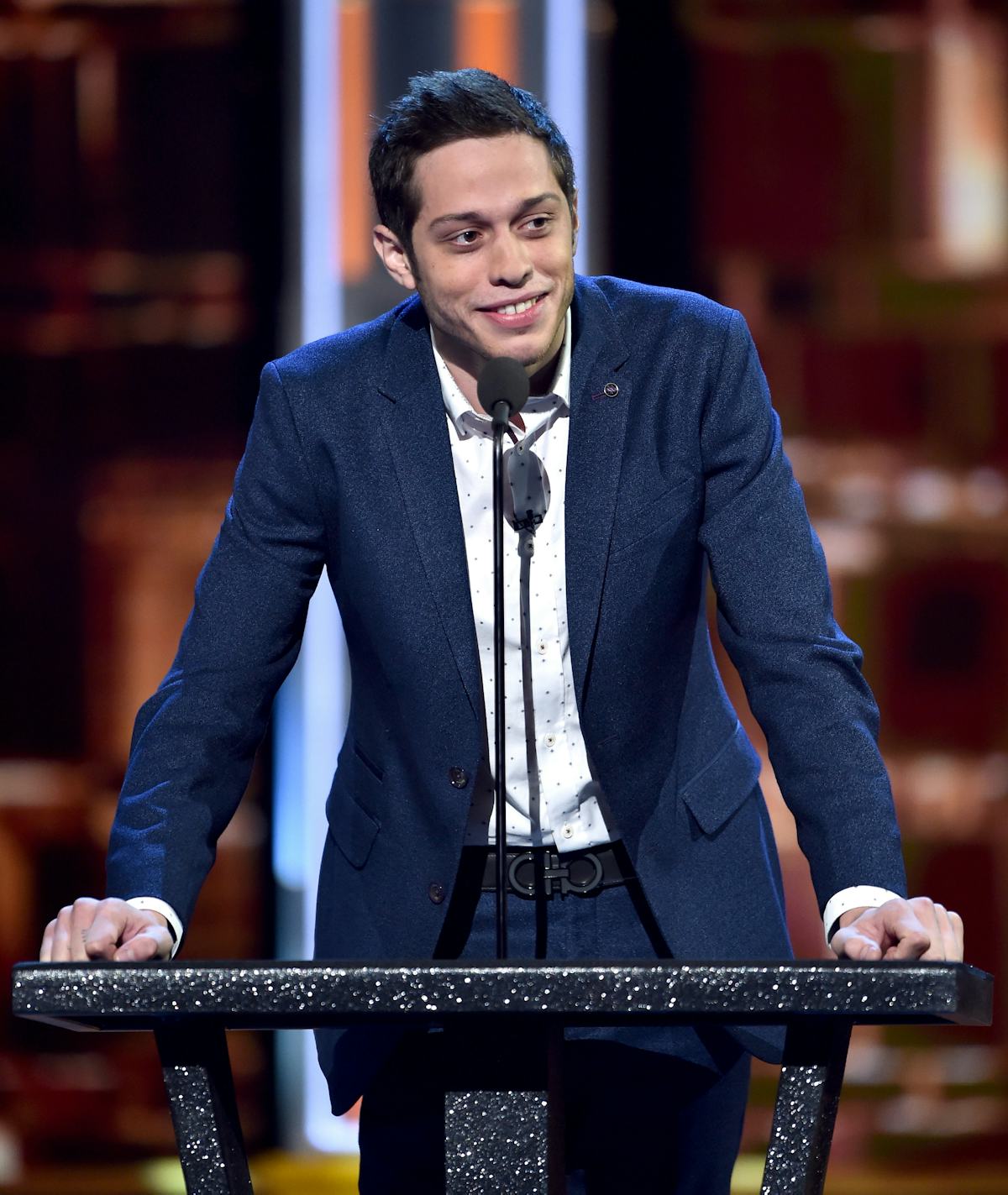 You Have To See Pete Davidson Try To "Make Kanye West 2006" Again On 'SNL'
Alberto E. Rodriguez/Getty Images Entertainment/Getty Images
If you're still processing Kanye West's bizarre MAGA speech at the end of Saturday Night Live on Sept. 29, Pete Davidson is here to break it down for you. On Saturday, Oct. 6, the comedian didn't hold anything back while tackling the contentious monologue on "Weekend Update," and this video of Pete Davidson's response to Kanye West's Trump rant has me nodding my head and saying, "Same." TBH, some of Davidson's advice to West is pretty solid, and I can't be the only one wishing that the old Kanye would make an appearance any moment now. Elite Daily reached out to Pete Davidson and the SNL team for additional comment, but didn't hear back by the time of publication.
"What Kanye said after we went off the air last week was one of the worst, most awkward things I've seen here, and I've seen Chevy Chase speak to an intern," Davidson began, breaking SNL protocol to discuss the previous week's episode when a MAGA hat-wearing Kanye West stayed on the stage during the show's end credits. As footage of the episode played, Davidson explained the awkward situation. "We all had to stand behind him," he said. "I'm on the left, and then I'm like, 'I want a career,' so I leave the stage."
As for West's controversial statements, which included claims that slavery is not real and that Democrats were responsible for breaking up black families with welfare, Davidson revealed he wasn't having any of it. "You know how wrong about politics you need to be for someone like me to notice?" he asked. "Like Kanye is a genius, but a musical genius. Like Joey Chestnut is a hot dog-eating genius, but I don't want to hear Joey Chestnut's opinions about things that aren't hot dog-related."
Davidson also shot down West's claims that he was bullied by the SNL cast for donning President Trump's "Make America Great Again" slogan. "He wore [the MAGA hat] all week," the comedian said. "No one told him not to wear it. I wish I bullied you. [The MAGA hat] might upset someone, like your wife, or every black person ever." Elite Daily reached out to Kanye West for comment on Davidson's statement, but didn't hear back by the time of publication.
As someone who's previously opened up publicly about his struggles with borderline personality disorder, Davidson said he also took issue with West (who has commented on being diagnosed with bipolar disorder) frequently touting that he is being his most "real," authentic self by not taking meds. Obviously, everyone can decide for themselves if they want to take or not take medication for a diagnosed mental illness, but Davidson wasn't having West's claim that taking medicine for an illness somehow makes you less "real."
"Kanye, I know you're like, 'Yo, this is the real me. I'm off the meds.' Take 'em," he said. "There's no shame in the medicine game. I'm on them. It's great! Take 'em. There's nothing wrong with taking them. If I got on a plane and the pilot said, 'I just want all of you to know: This is the real me flying the plane,' I'd jump out." Elite Daily reached out to Kanye West's representation for comment on Davidson's response, but did not hear back at the time of publication.
"Being mentally ill is not an excuse to act like a jack*ss," he continued. "I'm quoting my therapist, my mom, and my mailman. Sorry, Carl." Relaying details from a time when Davidson apparently stopped taking prescribed medication, he continued, "No, seriously, one time I stopped taking my meds and I bit my mom. No, it's all good, I bought her a house."
OK, so there is definitely a lot to unpack in Davidson's response. Mental illness and West's bipolar disorder are serious subjects. Of course, nobody knows the exact motivations behind West doing things like going on a pro-Trump rant on live television or posting a tweet calling for the abolition of the 13th amendment. Elite Daily reached out to West's representation for comment at the time, but did not hear back at the time of publication. Davidson is suggesting that a lack of prescribed medication is the culprit, but he is not a doctor or West's personal physician, so in the end, that's just his opinion.
Davidson concluded the "Weekend Update" by putting the focus back on 'Ye's music, not his political rants or Twitter sprees. Wearing his own version of a MAGA hat, instead inscribed with the phrase "Make Kanye 2006 again," the comedian asked the question that you've all been dying to know the answer to: "Where's that album?"