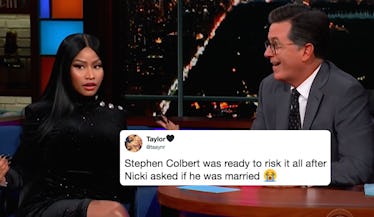 Nicki Minaj Rapped A Sexy "Barbie Dreams" Verse For Stephen Colbert That Had Him Speechless
YouTube
Nicki Minaj shook the world when she dropped her latest album, Queen, a week earlier than expected on Friday, Aug. 10. The song that still has fans shook as hell is "Barbie Dreams," where she puts just about every rapper in the game (and a few non-rappers) in their place, reminding them who they're dealing with: the queen. Now she's out promoting the album, and this video of Nicki Minaj flirting with Stephen Colbert by improving a "Barbie Dreams" remix is hilarious.
The rapper stopped by The Late Show with Stephen Colbert on Aug. 13 to talk about her album. Colbert brought up "Barbie Dreams" and started listing all of the artists Nicki reads for filth in the song. In just the first verse alone, she drags Drake, Meek Mill, and Lil Uzi Vert, and that's not even half of them, then, in the second verse, she drags Eminem, DJ Khaled, and more. It's honestly my favorite thing of all time. FINISH them, Nicki! Finish them.
In a clip from the interview, Colbert says he couldn't help but notice his name wasn't on the list of people Minaj wouldn't get with (lol, what is happening?). Minaj then improvs a new verse of "Barbie Dreams" just for Colbert. She says, "I might f*ck Stephen after the show. He gonna come back to work with a magical glow." AH. Colbert lost his sh*t after that and said through his blushing, "Are we still broadcasting?!" But Minaj wasn't done, because of course she wasn't. She kept going, "But when you see us please f*cking don't stare. Just address me as Queen Nicki Colbert."
Colbert could handle none of this. It happens around the 2:25 mark.
Twitter obviously went OFF over this hilarious (and, honestly, quite charming) moment:
Her verse about Colbert was clearly a glowing review of the host, but the other men mentioned in "Barbie Dreams?" LOL, pray 4 them.
The "Barbie Dreams" lyrics start off so savage, then they never stop. Minaj raps,
I'm lookin' for a n**** to give some babies / A handful of Weezy, sprinkle of Dave East / Man, I ain't got no type like Jxmmi and Swae Lees / But if he can't f*ck three times a night—peace! / I tried to f*ck 50 for a powerful hour / But all that n**** wanna do is talk Power for hours / B-beat the pussy up, make sure it's a K-O / Step your banks up like you're movin' that yayo / Somebody go and make sure Karrueche OK though / I heard she think I'm tryna give the coochie to Quavo / They always wanna beat it up, goon up the pussy / Man, maybe I should let him autotune up the pussy / All these Bow Wow Challenge n****s lyin' and sh*t / Man, these Fetty Wap n****s stay eyein' my sh*t / Drake worth a hundred milli, he always buyin' me sh*t / But I don't know if the pussy wet or if he cryin' and sh*t / Meek still be in my DMs, I be havin' to duck him / "I used to pray for times like this" face-ass when I f*ck him / Man, Uzi is my baby, he ain't takin' a L / But he took it literally when I said "Go to hell!" / Used to f*ck with Young Thug, I ain't addressin' this sh*t / C-caught him in my dressing room, stealin' dresses and sh*t / I used to give this n**** with a lisp tests and sh*t / How you want the pu-thy? / Can't say your S's and sh*t
Someone, please check in on Meek Mill and Drake to make sure they're OK. Stephen Colbert definitely is. Nicki did that.