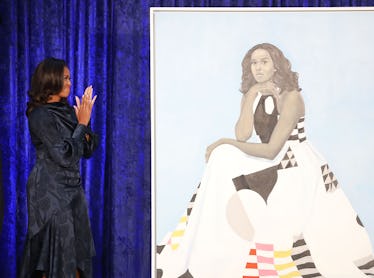 Michelle Obama Met The Girl Who Loved Her Portrait, & The Video Is Everything
Mark Wilson/Getty Images News/Getty Images
The news cycle that surrounds President Donald Trump is so wild that I don't blame anyone who needs a break every once in a while. Personally speaking, I often reminisce about the days of our previous president, and I know I'm not alone when I say that I miss the Obamas being in my life on a consistent basis. So whenever anything related to Michelle or Barack Obama hits the internet everyone absolutely eats it up. Which is why you need to watch this video of Michelle Obama and Parker Curry meeting — especially if you need a little mid-week pick me up.
You might remember this adorable little girl who made headlines just a few days ago. On March 1, two-year-old Parker Curry paid a visit to Washington D.C.'s National Portrait Gallery to see the latest portraits of former president and first lady. An adorable photo of Parker staring up at Michelle Obama's portrait in awe went viral, and the internet went nuts for the pic.
Even Obama took notice of the viral image, and she evidently decided she had to meet this little girl for herself. The video of Obama meeting Parker is seriously too cute for words. The former first lady tweeted the clip of their meeting on March 6. She treated Parker to a dance party with tunes provided by Taylor Swift as the two shimmied to "Shake It Off." Thank god this four second video plays on a loop because I could watch it at least a hundred times — no joke.
I mean c'mon — who doesn't love it when little kids dance?! This video is incredible and it's even better knowing what inspired this meeting. Parker looks up to Obama quite literally, and who knows how much of an influence she'll be on this little girl's life as she continues to grow up. In the very sweet message that she wrote to accompany the photo, Obama said,
Parker, I'm so glad I had the chance to meet you today (and for the dance party)! Keep on dreaming big for yourself... and maybe one day I'll proudly look up at a portrait of you!
Clearly, Parker has made an impression on Obama just as much as Obama and her portrait have had an impression on her. When Parker and her mom Jessica went to the National Portrait Gallery on March 1, they didn't expect a moment like this to happen. In an interview with BuzzFeed News, Jessica said, "As a little person looking at a portrait that large, I can imagine it's fascinating. She had a little moment." Her mom said that she tried to get Parker to turn around to face her for a picture, but her young daughter could not stop staring in awe at the amazing portrait of Obama.
This is exactly what Obama hoped her portrait would inspire when it was unveiled on Feb. 12. In her speech after her portrait was revealed to the public for the first time, she said,
I'm also thinking about all of the young people, particularly girls and girls of color, who, in years ahead, will come to this place and they will look up and they will see an image of someone who looks like them hanging on the wall of this great American institution.
So of course Obama had to meet Parker in person. Hopefully more young little girls (and boys!) will visit D.C. and look up to this portrait and feel moved, inspired, motivated, and hopeful that they can accomplish something great in their future. And maybe they'll get to dance with Obama, too.