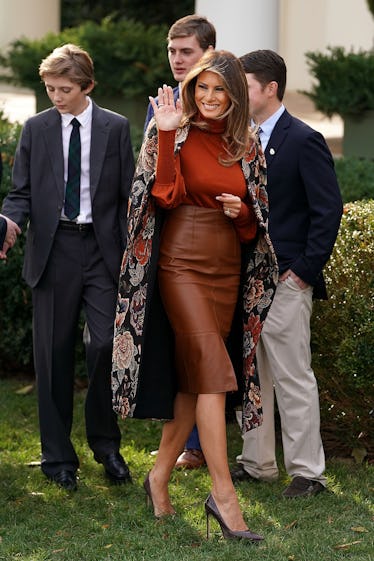 People Can't Stop Watching This Video Of Melania Trump & Ballerinas In The White House
Chip Somodevilla/Getty Images News/Getty Images
With Thanksgiving come and gone and the December holidays near, the White House has begun its traditional decorating. On Monday, Nov. 27, the first lady showed off her residence, freshly decorated for the December festivities, and welcomed visitors in to help ring in the holiday season. A video of Melania Trump watching ballerinas in the White House shows how what could've been a nostalgic and delightful performance turned, well, awkward.
The tradition of decorating the White House has been going for 200 years, and is always headed by the first lady (because women have a gene that makes them good at decorating, obviously). This year's White House decorations theme, "Time-Honored Traditions," will leave some of us scratching our heads though, as it's basically an homage to other yuletide themes. It was in this pomp-and-circumstance ambiance that Trump descended her staircase to see quite a sight. Per a tweet by Daily Mail's Nikki Schwab, it was during his Christmas walk-through of the house that she walked in to find the marble floors serving as a stage for a ballet performance.
In a video posted by The Hill's Judy Kurtz, we get an inside look at a... festive? moment inside president's house. It's unclear if the dancers were a surprise for the first lady or a planned affair, but Trump doesn't look too overjoyed. While the ballerinas twirl and smile through their routine, she stands at the bottom of the stairs, with her arms still at her sides and a limited facial expression as she watches them dance.
One user, replying to the video, imitated what the first lady's reaction appeared to be, writing, "Oh, hello. Can I just get through? Trying to go...okay, nevermind. I'll wait until you're finished." Admittedly, the first lady does look pretty uncomfortable. "Melania so over this," wrote one user in a reply to the tweet.
Others joked that Trump has a secret life that's actually a musical. "If I lived in a musical this is pretty much how I'd be, standing around looking awkward while everyone dances and sings, me thinking, this is weird, make is stop," one user wrote.
But if Trump is feeling any sort of negativity these days, she's not letting it show, on Twitter at least. She shared a video Monday of her decorated home, and it looks like a joy-inspiring set-up. Outside of being serenaded by ballerinas, Trump spent Monday taking visiting kids on a tour of the decorated White House.
This is only the most recent time the internet has speculated over what many see as a general discomfort from the first lady towards her reality in the White House. (Who could forget the infamous hand-swat moments on the tarmac during her and Donald's May trip abroad?)
It's no secret that the former model has largely avoided the spotlight since her husband announced his candidacy. A longtime friend of the Trumps, speaking about her role as first lady, told Vanity Fair, "This isn't something she wanted ... She didn't want this come hell or high water. I don't think she thought it was going to happen."
After an unusual five-month delay in the first lady moving in with her husband at the White House — she stayed in New York until June to let her son, Barron, finish out the school year — it's taken Trump some time to find her footing in the role.
But Trump seems to be welcoming the holiday season with open arms — perhaps a needed respite (and, let's be honest, distraction) after the drama of this fall, wherein members of her husband's campaign were indicted under the FBI's investigation into Russian meddling in the 2016 election. And there's lots to be dazzled at in the newly decorated White House, replete with glitzy ornaments and a 19-foot-tall Balsam fir, one of a couple trees on display in the residence.
In a statement, the first lady she was "very excited for our first Christmas in the White House," adding, "On behalf of my husband and Barron, I want to wish everyone a Merry Christmas and joyous holiday season."