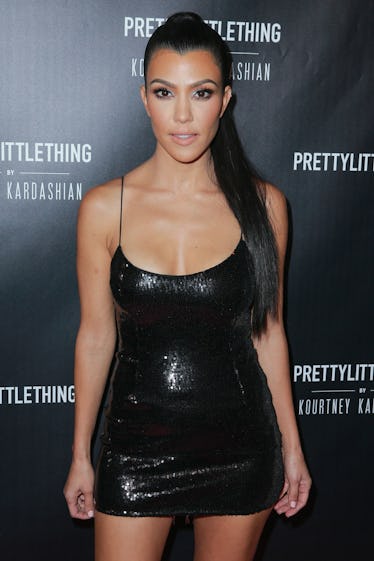 Kourtney Kardashian Has A Pest Problem & No, It's Not Scott Disick
Rich Fury/Getty Images Entertainment/Getty Images
The Kardashians seem to be living the ultimate life in sunny Calabasas, California. However, even celebs get pest problems sometimes. If you thought Kourtney's biggest pest was Scott Disick, you would be wrong... in this scenario. While enjoying some rest and relaxation by the pool with a friend, Kourtney discovered someone else had joined their pool time — a giant, hairy tarantula. It was as creepy as it sounds. The video of Kourtney Kardashian's pest problem on the upcoming episode of Keeping Up With The Kardashians will have you cringing so, so hard.
In the video, it looked like a beautiful day at Kourtney's house — the sun was shining, she was relaxing poolside, had her towel all set up and spending a lovely afternoon with her friend, Larsa Pippen. You may recognize Larsa as basketball legend Scottie Pippen's wife, or from her time on Real Housewives of Miami.
The two had their chairs all set up and were enjoying an afternoon of fun in the sun. The ladies were talking about their latest manicure and what constitutes "stripper" nails when the unexpected visitor popped up.
This tarantula gave me goosebumps and now I feel like it's crawling on me. IS IT ON ME?! *Burns down entire apartment.* Kourtney and Larsa were both repulsed and the reality starlet admitted, "I just don't even know what to do," during a private interview. She continued,
I swear, we're, like, outside, like, 50 percent of the time, and I've already had the exterminator come out and spray.
Although Kourtney is kind of laughing while she and Larsa are scrunched together for protection, she divulged that the spider problem definitely freaks her out. She said,
I just won't be able to sleep at night. I just will not feel comfortable until these tarantulas are fully gone.
One tarantula after the exterminator visited twice is creepy, spotting two tarantulas sounds like a nightmare — which is exactly what happened to Kourtney and Larsa. During the video Kourtney shrieks, "There's another one!" Are your palms sweating or is that just me?
Larsa was definitely feeling the fear when she jumped up and declared,
I promise I'm going to Beverly Hills. This wild, wild west is not for me!
The wild, wild animals of Calabasas. I guess it's a risk the Kardashian-Jenners are willing to take. The real question remains — would Kourtney rather share her backyard with Scott Disick or a tarantula?
All jokes aside, I truly love Scott Disick and couldn't picture KUWTK without him. He always adds a little something extra. The latest clip that has fans talking proves that Scott was literally one of the last people to know that Kim and Kanye were expecting a third baby via surrogate.
I'm not sure if no one included him on that conference call or if he wasn't paying attention, but the clip is hilarious. The best part is Kim's confusion about the whole thing when she finally asks, "Wait, are you joking?" No, Kim, I don't think he was.
Scott will obviously always be part of the family, but it sounds like things are getting serious between Kourtney and her 24-year-old boyfriend, Younes Bendjima. A source confirmed to People in December that Kourtney is "very happy." The source said,
It's definitely serious. No one thought their relationship would last this long, but Kourtney is very happy.
Reportedly, Bendjima has even met Kourtney's kids which is a huge step. The source continued,
Younes has met her kids. Kourtney's family really likes him. He is the opposite of Scott. He doesn't party, isn't flashy and really treats Kourtney with a lot of respect. It's obvious that he really cares about Kourtney.
It's great to see Kourtney happy with someone who respects her. She and Disick are obviously on good terms and co-parenting well. Keep doing you, Kourt, and call that exterminator again.
Check out the entire Gen Why series and other videos on Facebook and the Bustle app across Apple TV, Roku, and Amazon Fire TV.