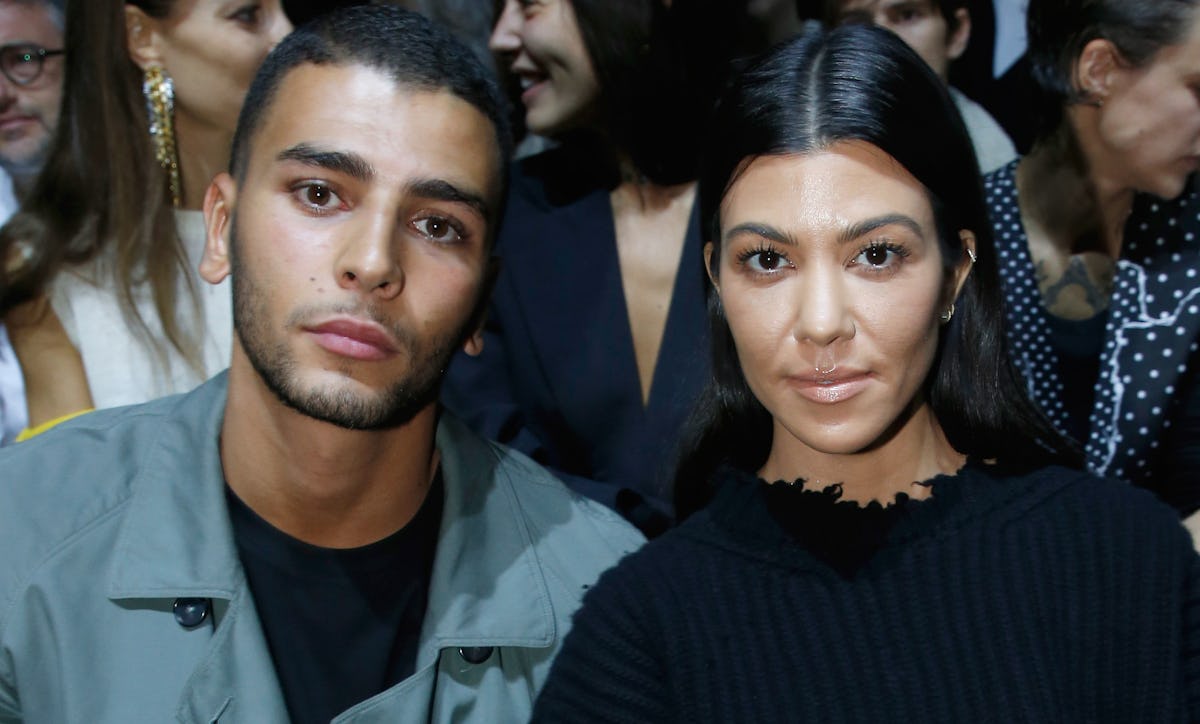 Kourtney K & Younes Bendjima Might Spend Christmas Together, So I Guess It's Serious
It looks like Kourtney Kardashian and Younes Bendjima are still going strong! Throughout about seven months of dating, Kardashian and Bendjima have kept their relationship pretty quiet. But according to reports, Bendjima has met Kardashian's kids and has been invited to spend Christmas with the family in California. So yeah, I'd say Kourtney Kardashian and Younes Bendjima's Christmas plans are pretty solid proof that their relationship is serious. A source told People, "It's definitely serious. No one thought their relationship would last this long, but Kourtney is very happy." They added,
Younes has met her kids. Kourtney's family really likes him. He is the opposite of Scott. He doesn't party, isn't flashy and really treats Kourtney with a lot of respect. It's obvious that he really cares about Kourtney. Younes will be in L.A. for Christmas and is invited to celebrate with Kourtney's family.
Spending Christmas with your girlfriend's family is a pretty serious step and obviously a vote of trust from Kourtney. She (and all of the other mothers in her family) are very protective of their kids, so to invite her boyfriend to spend the holidays with them must mean they're really serious. As for whether or not Kardashian and Bendjima will ever get married, Kardashian never even married Scott Disick, so let's not get ahead of ourselves on that one.
Scott Disick, by the way, isn't in love with Kardashian and Bendjima's relationship.
He's caused more than one stir with the family out of his apparent jealousy of Kardashian's relationship/the fact that she's thriving without him. In an episode from this season of Keeping Up With The Kardashians, Kris Jenner told Kourtney that she thinks Disick was envious of the vacation she took to Mexico with her friends earlier this year. Jenner said, "I think he was jealous because you were having fun spending time with other people." Kourtney, visibly annoyed, responded,
Well, that's really not fair. It's just like, I can't even live my life. I can't even go anywhere. He needs to get a f*cking life and leave me alone. All he does is try to make everybody else feel bad for him and try to make me look like the bad guy in this situation when clearly I'm not from, you know, 10 years of this going on.
Jenner tried playing devil's advocate by responding, "Wouldn't you be sad if he truly left you alone? You always want what you can't have, and when somebody's right there giving you their heart on a platter..." Kourtney responded, "He's not, though!" She continued,
No, mom, that's what he makes it seem to you, to Kim, to Khloé, to the world, to everybody. He sits there and grovels and feels bad for himself. So if that was his truth, why can't he get it together?
So Kourtney definitely isn't quiet about how she feels about Scott Disick's bullsh*t, but she is committed to keeping her relationship with Bendjima private. So much so, her sisters had to try and pry the truth out of her when they suspected she wasn't single. In an episode of Keeping Up With The Kardashians that aired on Sunday, Dec. 10, Kim and Khloé Kardashian tried to set Kourtney up on a fake date with Chris Hemsworth in order to make their older sister spill the beans on her relationship.
Kim and Khloé kept detailing Chris Hemsworth's features, hoping it would encourage Kourtney to be like, "Actually, I can't date Thor. I have a boyfriend." But Kourtney didn't fall for it.
Khloé said, "OK, he's tall, he has the best body. He has two kids. He has like, a 12-pack, and big muscles." Kim added, "Scruffy beard. He's like, a really good actor. And he's gluten free!" Khloé chimes in, "Do you know who we're talking about? Thor!" There's a long pause, and then Kourtney asks, "Did you ask Thor if he wanted to go on a date with me? I don't go on dates." (Chris Hemsworth is married, by the way, so there was no way Kim and Khloé were actually serious about this.) Kim, knowing Kourtney hadn't fallen for their trick, replies, "But we noticed you were out with a certain someone." And Khloé asks, "So that's your boyfriend? So you hang out with this guy, but you won't validate anything to us? That's weird." Later in the episode, they finally get the truth out of Kourtney when she admits she's dating Bendjima. No clue as to whether or not the rest of the Kardashian fam knows about Kourtney and Younes' Christmas plans...