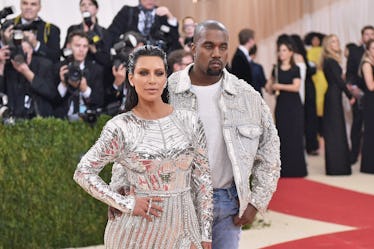 Kim Kardashian Caught Kanye Swooning Over Rihanna & The Vid Is Hilarious
Mike Coppola/Getty Images Entertainment/Getty Images
We can hardly keep our eyes off Rihanna, and apparently, neither can Kanye West. The Fade rapper was caught ogling the Bahamian beauty while she danced on stage in a newly unearthed clip from the 2016 MTV Video Music Awards, and things got pretty weird. It might seem like no big deal (I mean, who hasn't marveled over her before?), but what makes it so bad is that he was standing right next to his wife, Kim Kardashian. Honestly, if you looked up the definition of "awkward," you would find the video of Kim Kardashian filming Kanye at Rihanna's concert.
Rihanna was being honored with the Video Vanguard Award, and put on a stunning four-part performance, dressed in a sexy black bodysuit and thigh-high boots — all of which evidently mesmerized West. Kardashian, on the other hand, had her back turned to the stage, as she was busy trying to take a selfie with her beau. And she didn't appear to catch on to how much West was glued to the stage until he swiftly moved his head away from her phone so she didn't block his view. She ultimately gave up trying to snap a shot, but West — whose eyes were still fixated on the stage — didn't seem to notice at all.
A Twitter user shared the moment, which has since gone viral, with his followers on June 28, writing, "see how fast Kim stoppped snapchatting when she caught Kanye [eyeing] up rihanna"
Another person tweeted, "I want someone to look at me the way Kanye looks at Rihanna," and if that's not the truth, then what is?
All jokes aside, though, we all know that Kardashian is truly the apple of his eye, which makes this clip more hilarious and lighthearted than hurtful. Besides, it's not like Kardashian is a stranger to similar circumstances.
During the 10-year anniversary special of Keeping Up With The Kardashians, the reality star told the story of how she and Kanye met and fell in love, revealing that she actually chose to date her now-ex-husband, Kris Humphries, over him.
She explained:
I met him I think in 2002 or 2003. He was recording a song with Brandy, and I was her friend. I vividly remember hanging out with him and then they did a video together, so I'd see him a few times. He was asking his friends: 'Who is this Kim Kardajan?' He didn't know what my name was. Right before I got married to Kris Humphries, [Kanye and I] were talking, and I just went a different direction. I think I had to go through that to figure out what I wanted.
Granted, she and West weren't official or anything, but considering how we practically always knew just how much he was in love with her over the years, it's still kinda awkward.
However, the two eventually linked back up once she and Humphries broke up in 2011, and it's been fireworks ever since. She continued:
After my breakup, I was feeling really low and down and he said, 'Just come to Paris and see my fashion show.' He jokes that he put on this whole fashion show just to get a date with me. So I went there and I stayed with him, and that's where we started dating. I swear from the moment I landed, I fell madly in love with him and I thought, 'Oh my God, why didn't I do this sooner?' Like, this is what real life is like — love and fun and real support.
Perhaps that "fun" and "real support" extends to their friends and associates, including Rihanna. You really have to think it does, given this clip, right?