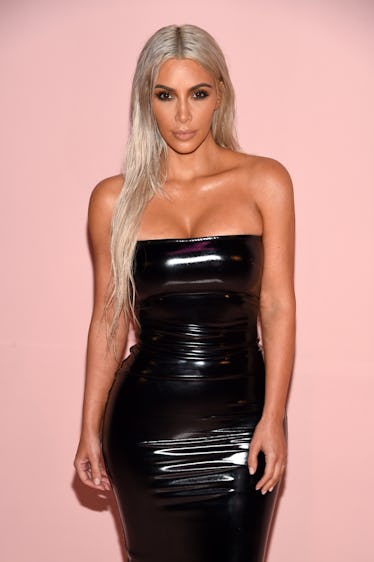 Kim K Called Out Fans Who Think She Lied About Dying Her Hair & The Video Is Harsh
Dimitrios Kambouris/Getty Images Entertainment/Getty Images
To dye, or not to dye, that is the question. Actually, it shouldn't be a question at all, because Kim Kardashian has made it very clear that her new pink hair is completely her own, and that she is NOT wearing a wig. In case you missed it, Kim K dyed her hair, and a lot of people are not believing that her new hair is real. Well, I think we got some pretty concrete confirmation from this video of Kim Kardashian calling out her fans after many questioned her about her pink hair, and her response is pretty harsh.
Kim has been experimenting with her naturally-dark locks recently, and TBH, I love the fact that she's been so daring. It's only hair, people! After debuting platinum blonde locks (channeling her inner Paris Hilton, according to Kim), it seems that she quickly became over the bleach-blonde look. Perhaps it's because the upkeep for that color seemed absolutely bonkers: Kardashian took to Twitter on Dec. 13 to fill her fans in on JUST how much effort went into maintaining her blonde hair. She wrote:
Spent the last few days bleaching my roots (we do it in stages so it doesn't break off). OMG 13 hours & still going. This blonde is very high maintenance. Love you @ChrisAppleton1 but getting over this.
HOW many hours?! I'd be over it too, girl.
On Feb. 25, Kardashian took to Twitter to show off her fantastic new pink hair:
Fantastic. Marvelous. Award-winning hair if you ask me.
But many fans were convinced that Kardashian didn't actually dye her hair, and that she instead was wearing a wig:
Kim must have seen all these people wigging out (I'm so sorry, I just felt that this was my one chance for that pun), and responded, saying that she doesn't "really do wigs," adding that her pink hair was "real":
You'd think most people would hear Kardashian's response and drop it, but NOPE, Twitter is a place where her response simply added more fuel to the fire:
Sigh. This is why we can't have nice things.
But our girl Kim was NOT having all of the drama with this hair debate, so she quickly put an end to the speculation once and for all.
Kim took to Snapchat to put all the haters in their place, taking a video and venting about all the drama her pink hair has been starting.
Warning: Kim gets REAL salty toward the end (but it actually brings me a bit of joy):
"You guys, if I see one more person say I'm wearing a wig and think I'm lying... I don't get it," she said. "Like, why would I lie about wearing a wig? This is my hair. There is no wig. I dyed my hair, guys. It's like... how is it such a crazy thought?" She ends the video on a high note, saying, "F*ck out of here with that wig sh*t."
Did you hear that sound, world? That's the sound of Twitter trolls licking their wounds.
Her response was pretty brutal, but some fans thought it was epic. User @MarelinHuerta_ responded, saying, "yaazzzz that snap back! "F*ck outta her wid that wig sh*t" savage Kim is my favorite Kim," while user @OhitsArianaaa wrote, "Kim Kardashian snapped on Snapchat. "F*ck outta here with that wig sh*t" She is TIRED."
One user thought that if Kim considered this one of her problems, then she's living "the good life":
Can't we all just get along and let people dye their hair in peace? It seems that as long as social media exists, that *probably* won't happen.
Oh, well. Can't say I didn't try.