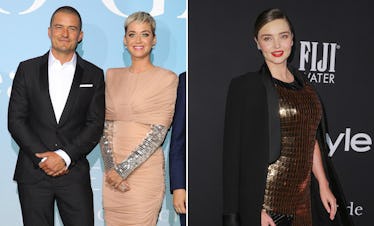 This Video Of Katy Perry & Orlando Bloom's Interaction With Miranda Kerr Is So Unexpected
Andreas Rentz/Rich Fury/Getty Images Entertainment/Getty Images
I sort of love it when I see divorced celeb couples living their lives amicably — especially when kids are involved. I love it even more when one person is dating someone new and their ex is warm and welcoming. It's almost like proof that good in the world does exist. Here to validate that thought is this adorable video of Katy Perry and Orlando Bloom's interaction with Miranda Kerr involving the son she and Bloom share together, Flynn.
Celebrating her 34th birthday, singer Katy Perry was spotted with boyfriend Orlando Bloom and his son, Flynn, after dinner at Barton G. in West Hollywood. After their meal, Perry and Bloom walked Flynn out to his mom, model Miranda Kerr, who was driving an absurdly awesome new Aston Martin car.
The whole glorious exchange was captured on video, and, while there's a lot going on, I'm going to try and break it down for you.
First thing's first: Bloom and Kerr's son Flynn is so big. Is it just me, or is he still supposed to be a toddler?! Apparently, he's 7 years old now, and my mind is actually blown. Then, Katy Perry's hot pink latex dress is everything a birthday girl could ever want or need. Lastly, and most importantly, it's the way that Katy Perry, Orlando Bloom, and Miranda Kerr are all beyond friendly and casual with one another that is absolutely blowing my mind.
Check out the video below and see for yourself how amazing they all are together, and are especially attentive to little Flynn:
The fact that Miranda Kerr seemingly hands Katy Perry presents and flowers — all while cheerfully chattering together about everything and nothing, even holding hands at one point — makes me so unbelievably happy. Not only that, but you hear Perry say, "Love you, Flynnie!" right in front of Kerr, and it's just like, all good in the hood.
Not going to lie, this is a heart-melting moment. I don't know if it's the latex dress, the sick ride, or the fact that these three people co-parent so perfectly, but I am feeling a lot of emotions, people.
Clearly, Katy Perry and Orlando Bloom are in it for the long haul if Katy Perry already has a seemingly great relationship with Flynn and Miranda, so does that mean that marriage is in their future?
According to People magazine, a source revealed that they have spoken at length about a future together, and a wedding is definitely a possibility.
"Orlando doesn't have a ring yet but has been talking about the future," a source close to the actor told the publication. "Everyone would be excited if they got engaged. Katy is wonderful!" Elite Daily reached out to both Perry and Bloom's teams for comment on the report, but did not hear back by the time of publication.
The source also revealed that despite his divorce with model Miranda Kerr back in 2013, Bloom would consider marriage again. "He always said he would absolutely get married again, and it seems Katy could be it... They both seem very happy. This has been an amazing year for the relationship," the source added.
Amazing for them, and amazing for us to witness. Wishing Katy Perry a happy birthday, and hoping that I get an invite to the next extended family get together.