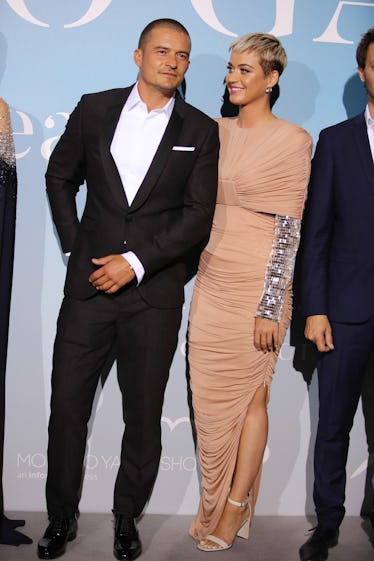 This Katy Perry & Orlando Bloom Relationship Update Will Make Your Heart So, So Happy
Andreas Rentz/Getty Images Entertainment/Getty Images
Can we all just pause to raise a glass to Katy Perry and Orlando Bloom real quick? Ever since the pair started dating again earlier this year, I feel like we haven't given them the appreciation they deserve. The couple have been going strong after a source confirmed that their relationship was back on in February 2018, so many fans are wondering about the most obvious question: Will Katy Perry and Orlando Bloom get married? According to a new report, the idea of marriage doesn't seem too far out for this power couple.
A source told People magazine that the 33-year-old singer and the 41-year-old actor are at the point where they talk about their future together, and that tying the knot isn't out of the question. "Orlando doesn't have a ring yet but has been talking about the future," a source close to the actor told the publication. "Everyone would be excited if they got engaged. Katy is wonderful!" Elite Daily reached out to both Perry and Bloom's teams for comment on the report, but did not hear back by the time of publication.
The source also noted that Bloom, who was previously married to model Miranda Kerr but split back in 2013, would consider marriage again. "He always said he would absolutely get married again, and it seems Katy could be it... They both seem very happy."
Do you hear that world? Katy Perry and Orlando Bloom are happy, which means that I, too, am happy by default!
"This has been an amazing year for the relationship," added the source. "It's like they needed to split and get back together again to get to this point."
I don't know who this trusted source is, but I am feeling what he or she is dishing out, y'all.
Just last week, the couple finally made their red carpet debut in Monaco at the Monte-Carlo Gala for the Global Ocean event and let me tell you, the photos of Katy Perry and Orlando Bloom's first red carpet together are pretty damn precious if you ask me.
Look at how adorable they both look here:
It's like Orlando is whispering something intimate and sensual into Katy's ear, like, "I'm a successful and gorgeous millionaire," and Katy is just smiling and nodding because she, too, is a successful and gorgeous millionaire.
And here's Orlando smiling for the cameras, but Katy has all eyes on Orlando:
Her loving gaze reminds me of the face I make when I see pizza. Pure lust.
And here they are giving each other bedroom eyes in front of hundreds of cameras:
Looks like they want to GTFO of that red carpet and immediately head out somewhere secluded to go make out or something, and I honestly can't blame either of them.
While neither Perry nor Bloom have confirmed their relationship status to the media, it's pretty clear that these two are super into each other and are giving the relationship their all this time around. Maybe a ring is in the near future... or maybe it's not. Either way, this couple is obviously just having fun, so let's just let them do their thang.