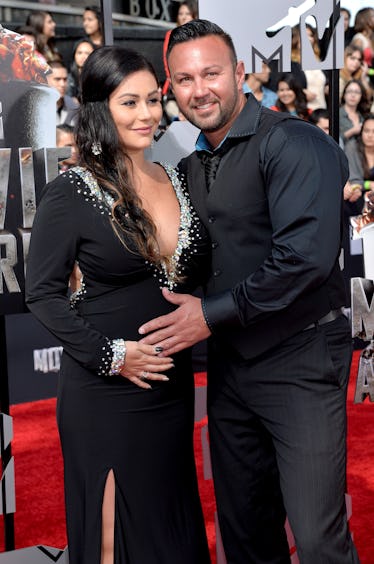 This Video Of JWoww & Roger's Romantic Date Night Might Mean They Are Working Things Out
Michael Buckner/Getty Images Entertainment/Getty Images
I don't want to sound overdramatic or anything, but when I found out that Jenni "JWoww" Farley filed for divorce from Roger Matthews, I believed that love was officially dead. Well, it looks like my pleading with the reality TV love gods may have worked, because this video of JWoww on Roger Matthews' Instagram could be a good sign that the couple is trying to work on their relationship. Elite Daily reached out to both JWoww's and Matthews' representation for comment on their relationship status, but did not hear back at the time of publication.
OK, so here are the details on why this romantic AF video of JWoww and Roger's date night might mean that these two are really trying to make things work. First of all, there is a horse-drawn carriage involved. TBH, I think that is, like, the one and only point I need to make to show that Roger is working super hard to win back JWoww, but there are also a few other adorable details from his Instagram posts on Saturday, Oct. 13 that will make you totally root for these two getting back together for real.
Oh, and the caption on his sweet video? He wrote,
It all started with a smile.
Take a look at these two looking so sweet as they share a romantic evening carriage ride.
In the video, you can see that JWoww was totally surprised by his romantic gesture.
"The horse! Oh my god," she exclaimed, upon seeing the white horse-drawn carriage. Roger then told her, "Your chariot awaits." Aww, you guys!
"Let me get the door for you, babe," Roger chivalrously said to JWoww, as they prepared to embark on their carriage ride that was apparently in honor of their October wedding anniversary. He also got her a gorgeous bouquet of flowers.
All in all the couple looked pretty happy in the video from Saturday night, especially considering JWoww reportedly filed for divorce from Roger back on Sept. 12, per TMZ reports at the time. Elite Daily reached out to the couple's reps at the time, but did not receive a reply at the time of publication.
If you want more proof that things might work out for these Jersey Shore lovebirds, then just take a look at the first photo that Roger shared on his Instagram from Saturday night:
Captioned, "Rome wasn't built in a day," Roger and JWoww look like a sweet married couple as they sip red wine and enjoy a night out together.
After I was done frantically searching where I can buy that sweater JWoww is wearing in the picture, I let myself bask the glow of a possible reconciliation between these two fan favorites. If anything is apparent from Roger's posts on Saturday, Oct. 13, it's that he is definitely living up to his promise from a Sept. 27 Instagram video that he was going to try to "win [his] wife back."
As of publishing, JWoww hadn't post anything about the couple's romantic AF date night, but her reaction in Roger's video seems pretty positive about the whole thing. So, here's hoping that things are looking up for these two!