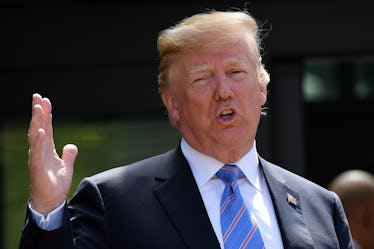 Fox News Accidentally Called Trump A "Dictator," & OMG, Twitter Went Wild
Leon Neal/Getty Images News/Getty Images
President Donald Trump arrived in Singapore on Sunday, June 10 ahead of his June 12 summit with North Korea's Kim Jong-un. One of President Trump's favorite shows, Fox & Friends, didn't waste any time sharing video of Trump touching down at Paya Lebar Air Base in Singapore. Using President Trump's arrival as an opportunity to discuss the highly anticipated summit, one of the show's hosts apparently slipped up while talking about the two men who are set to meet on Tuesday. This video of Fox News calling Trump a "dictator" was immediately met with plenty of reactions on Twitter.
Abby Huntsman, one of the Fox & Friends co-hosts, discussed the upcoming meeting between President Trump and Kim on Sunday morning's show. According to Mediaite, Huntsman tried to turn the conversation to include the show's guest, Anthony Scaramucci, when she said, "This is history. We are living — regardless of what happens in that meeting between the two dictators, what we are seeing right now, this is history."
Yes, that happened. Huntsman was referring to President Trump and Kim when she called their summit a "...meeting between two dictators." Adam Best, founder of The Left, tweeted a video of the gaffe on Sunday morning.
In the three-second clip, you can hear Huntsman refer to the meeting as one between "two dictators."
Shortly afterward, Huntsman apologized for the mistake, saying, "on live TV sometimes you don't always say things perfectly" and adding that she did not mean to refer to both leaders as "dictators." She said, "I did not mean to say that. My mistake, so I apologize for that."
There is a lot to unpack with this slip of the tongue. Of course, Trump was democratically elected as president of the United States in November 2016, but some of his actions — like failing to outright condemn white supremacists —appear contrary to what you'd expect from the leader of a democratic nation. In a December 2017 Newsweek article, it was also pointed out that Trump has high praise for some of the most authoritarian leaders in the world, including: Russia's Vladimir Putin, China's Xi Jinping, Turkey's Recep Tayyip Erdogan, and the Philippines' Rodrigo Duterte.
Prior to the 2016 U.S. presidential election, an Oct. 21 article in The Washington Post looked at "how fascist" Trump is. The author, John McNeill, pointed out Trump's tendency toward "hyper-nationalism." McNeill highlighted Trump's "America first" outlook on economic policy that seems to focus mostly on "white Americans," but he adds that Trump's rhetoric is not in the "upper echelon" according to the "standards of historical fascism."
Even with many critiques of the president, people were shocked to hear that someone on a Fox News show would — even accidentally — call President Trump a dictator.
There were plenty of reactions calling the "...meeting between the two dictators" line the best Freudian slip ever.
People also seemed to really enjoy the fact that this slip-up came from President Trump's network of choice, Fox News. Though President Trump famously likes using the phrase "fake news" — which basically refers to any negative news about the president or the Trump administration —President Trump calls Fox News the "fairest" source of news, according to CNN, and many of the network's talking points "show up in his tweets and speeches."
Trump even reportedly talks with Fox News host, Sean Hannity, "several times a week," per The Washington Post.
In turn, the Fox News network has been criticized for supporting Trump. For example, Jeff Zucker, president of CNN and former head of NBC who helped Trump start The Apprentice, has called Fox News a "state propaganda machine," per Deadline.
For critics of Fox News who perceive some of President Trump's actions as less-than-democratic and the network's coverage as less-than-truthful, this gaffe was a welcome surprise.
I'm no psychologist, but the reference of Trump as a dictator might be the Freudian slip that revealed what many people are thinking.
Of course, it's probably not coming at the best moment. This June 12 summit between Trump and Kim is supposed to be about a path toward North Korea's denuclearization, but Trump has used some inflammatory language toward Kim. Back in a speech to the United Nations in September 2017, Trump referred to Kim as "Rocket Man," and then he again called Kim "Little Rocket Man" in a tweet in November. In turn, North Korea's Kim heavily insinuated in January 2018 that he could easily release nuclear weapons on the United States. At the time, Kim said, "The entire United States is within range of our nuclear weapons; a nuclear button is always on my desk. This is reality, not a threat."
When President Trump goes on a name-calling Twitter rant against a nation he should be trying to improve diplomatic relations with, it's difficult to think of him as truly presidential. Lack of presidential manners doesn't make Trump a dictator, but uh, it doesn't help. Hey, at least this gaffe was a —very dark — laugh in the middle of all the tension.