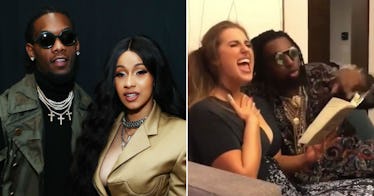 This Viral Video Of Fans Impersonating Cardi B & Offset Is So On Point, Even Cardi LOLed
Astrid Stawiarz/Getty Images Entertainment/Getty Images ; Instagram/nataliefriedman ; Instagram/sidssoul
Cardi B may have just become a mother, but that doesn't mean she's suddenly taking herself more seriously. In fact, she's got the same sense of humor as always, even with the added weight of motherhood on her shoulders. And a new viral video of fans impersonating Cardi B and Offset is proving that.
The video, which was posted to Instagram, shows two die-hard fans dressed up like Cardi and her husband Offset as they take care of their new daughter, Kulture. One of the fans, who is made up to resemble Cardi, sports extra-long nails and delivers some of the rapper's signature catchphrases. The other fan has dreads, chains, and glasses just like Offset.
"Coochy coochy coo. Daddy's got chains for you, and her nose is so beaut. Ooh, she just took a pee," the fans can be heard saying in the video. They're even mimicking the rappers' speech patterns, which just adds to the humor of the video. It's beyond entertaining!
When Cardi caught wind of the video, she thought it was so on point that she posted it to her own Instagram account with a really funny, but thoughtful caption.
"Lmaaaoooo too funny 😂😂Thank you everybody for the congrats we really appreciated❤️," Cardi wrote on the post. "Thank you to family and friends that's been hitting me up checking on me .It's been a little hard for me to reply back cause this mommy job requires full day ,all day ,all night attention .I love you guys .Thanking all my fans as well for the love and support .I love you guys !!I'll try to post more often."
Aw, so cute! The hilarious video, which was originally posted on July 12, has received a lot of attention. In just four days, Cardi's post has gotten 1.9 million likes and over 28,000 comments.
Here's a look at the video:
While those impersonations have gotten a ton of social media traffic, they're no match for Cardi's baby announcement. The 25-year-old rapper and her 26-year-old husband welcomed their daughter Kulture Kiari Cephus on July 10, 2018. When Cardi posted about her baby on Insta, her post got 6.6 million likes, which is truly wild.
In the days since announcing the birth, Cardi has only posted to Instagram a handful of times.
She recently shared this incredible flower arrangement sent to her by Fashion Nova.
"I would like to thank Fashion Nova for this beautiful teddy bear flower arrangement," Cardi says in the video.
In addition to celebrating the birth of her baby, Cardi is also celebrating a lot of musical success. Not only is she leading in MTV VMA nominations, but her album Invasion of Privacy is currently number five on the Billboard 200.
In an Instagram post, Cardi B thanked her fans for helping her get this far.
"I just want to tell you guys thanks for supporting my album INVASION OF PRIVACY while I'm experiencing this new beautiful journey," she wrote on the post. "Thank you so much for your support !❤️I hope my music make your day great .😊😊😊 Make sure ya check out other songs i featured on .Latest song out is WHO WANT THE SMOKE by @lilyachty ft me and @offsetyrn !! Enjoy !Loveyaaaa ❤️❤️❤️❤️❤️"
Cardi B is obviously loving life right now and she so deserves to enjoy every success she's earned. Plus, she's a mom now, so she's got to take the successes as they come since mommyhood is definitely a full-time job. But Cardi seems 100 percent ready for it. Can't wait to see how motherhood informs Cardi's next creative projects. It's going to be a ride, for sure!