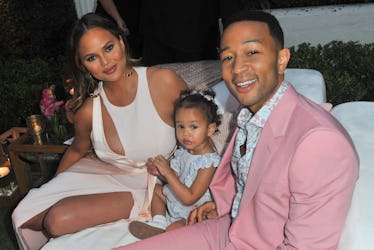 This Video Of Chrissy Teigen & Luna Singing "A Whole New World" Will Brighten Your Day
Jerod Harris/Getty Images Entertainment/Getty Images
Chrissy Teigen's videos of Miles and Luna are the sweetest things on Instagram. There, I said it! She and John Legend are super gracious about sharing photos and videos of their kids when they really don't have to at all, so it's a dang delight to see this video of Chrissy Teigen and Luna singing "A Whole New World" from Aladdin.
Teigen posted the precious video of her and her daughter, who turned 2 years old on April 14, to her Instagram on Monday, Dec. 3. The video shows her and Luna dancing around their living room together while singing the classic Aladdin song. She said in her caption that this little karaoke session is a nightly occurrence in their household.
"Nightly ritual! A magic carpet sky? I dunno the words I'm old I forget," Teigen quipped about her messing up the lyrics in the clip. But honestly, she could mess up every single word in this song and this video would still be the cutest thing ever. Luna is wearing an Elsa dress in the video as she gazes up at her mama dancing with her, and if it doesn't tug at your heartstrings I don't know what will.
This is heckin' cute.
Twitter loved the video, naturally.
Dec. 3 was just a really great day of Stephens/Teigen family content in general. (Stephens is John Legend's real last name, as well as Luna and Miles's.) Earlier in the day, before her nightly ritual with Luna took place, Teigen shared the sweetest photo of baby Miles wearing his new head-shaping helmet.
"My baby bug got his head shaping helmet today!" she said on Instagram. "Please don't feel bad for him if you see photos. He is a happy bug and we are just fixing his flat!"
Here's Miles in his little helmet looking as heckin' cute as ever.
She also tweeted about Miles' helmet, and it ended up becoming a sweet thread of parents sharing photos of their little babies wearing their head-shaping helmets.
"Baby Miles getting fitted for a little helmet today for his adorable slightly misshapen head," she tweeted, "so if you see pictures, don't feel bad for him because he's just fixing his flat and honestly he's probably gonna be even cuter with it somehow."
Can confirm. Very cute.
"I have been told it's too late for my head," she joked in another tweet.
Teigen is really open about her kids' lives on social media — something not many celebrities like to do (which is their prerogative). She does second-guess the things she posts about/of her kids, however, because she knows mommy-shamers on the internet come a dime a dozen.
In an exclusive interview with Elite Daily, Teigen said she just jokingly calls out anything mommy-shamers could try and shame her for in her captions instead of stopping herself from posting what she wants to post about her kids.
"I just joke about it in the caption now," she said. "I think it's good to get to it before they do because then they can't say anything. It's almost like you hear their fingers just melting, they're so sad they can't know it all." You can tell she did that in the caption of her Aladdin video with Luna when she joked about not knowing the words. You hear that, mommy-shamers?! Chrissy Teigen has out-smarted you!!