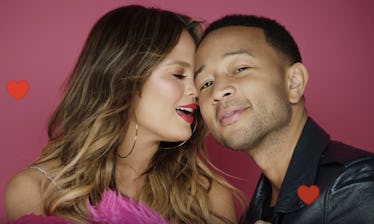 This Video Of Chrissy Teigen & John Legend Singing Is All You Need This Valentine's Day
Happy Valentine's Day, everyone!! On this most ~romantic~ of days, celebrity couples always post the sweetest things for each other and the internet swoons. One of the internet's favorite couples, Chrissy Teigen and John Legend, frequently talk about how much they love each other, but this Valentine's Day, Teigen has made it extra clear just how she feels about Legend by posting an adorable video of them from Valentine's Day 2017. This video of Chrissy Teigen and John Legend singing "L.O.V.E." to each other is going to melt your damn heart this Valentine's Day.
Teigen posted an adorable behind-the-scenes video from her and Legend's LOVE Magazine 2017 Valentine's Day video. In this outtake, the couple (who is expecting their second child, a baby boy, this year) sings Nat King Cole's "L.O.V.E." to each other. You know, the classic that goes, "L is for the way you look at me" and is in the beginning of The Parent Trap? (Don't even lie and say that's not the first thing you think of when you hear that song.) The video is as cute as it sounds. Teigen posted it to her Instagram and Twitter with a pink heart emoji as the caption.
I think my heart is about to explode out of my chest??? And Teigen can actually hold her own when singing?! I'm so pleased by all of this!
This clip was an apparent outtake from the Valentine's Day video Teigen and Legend made with LOVE Magazine last year.
The video is a recreation music video of Legend's 2004 hit "Ordinary People." Except this time, Legend isn't the one doing the singing. Teigen is lip-singing to her husband's own music, and Legend is taking on the role of the person being sung to this time around. It's like the "All Of Me" music video, except flipped the other way around. And it's everything. Watch the video and try to tell me you didn't finish it falling in love with this couple all over again. No matter how many times they swoon over each other online, I'll never get tired of it because they are the cutest couple to ever exist, OK?!
Legend's "Ordinary People" isn't about Teigen, however. It was released in 2004 and the pair didn't meet until 2007.
Teigen and Legend actually met when she was cast as, wait for it... Legend's love interest for his "Stereo" music video.
I'd like to issue a formal thank you to the casting director of this music video for bringing the world's favorite couple together. Anyway, Teigen told Cosmopolitan in 2014 that she was instantly attracted to Legend when they did the video. "I walked into John's dressing room to meet him, and he was ironing in his underwear," she said. "I said, 'You do your own ironing?!' He said, 'Of course I do.' I gave him a hug." She continued to tell Cosmo that they got burgers from In-N-Out after the shoot and ate them in Legend's hotel room, and that's when they hooked up for the first time. (After burgers?! The literal dream.) That was what started everything, and the rest is history.
Although "Ordinary People" was written before he even met Teigen, the song is ironically relatable to his and Teigen's relationship when they first started up. The song is all about two people who are in love with each other, but are still trying to figure life together out, so they decide to take things slow. This is made the most clear in the lines, "Girl, I'm in love with you. This ain't the honeymoon. Passed the infatuation phase," and "We're just ordinary people. We don't know which way to go. 'Cause we're ordinary people. Maybe we should take it slow." Legend talked about the early years of their relationship in an interview with Los Angeles Confidential Magazine in 2014. "I wasn't like, 'This is the woman I'm going to marry from day one," he said. "I'm the kind of person who needs to grow into that feeling. It was probably a couple of years in when I could already see us being together forever." See? He was all about ~taking it slow~. Fast forward to now, and the couple is getting ready to welcome their second child! Ugh, I love them so much.